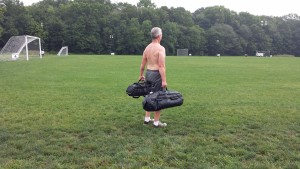 Build strength, get super lean and chase the fat off your body with this highly transformative workout that is deceptive in it's simplicity, yet challenges and hits every muscle from head to toe for a true total body workout.
I am combining two great fitness tools in this fantastically productive workout – The Ultimate Sandbag and my own body itself. Yes, your very own body is one of the most perfect exercise tools to use to accelerate you to your ideal fitness. Learn how to work your body into your training routine as it is one of the most untapped resources at our disposal that many trainees overlook or snub. Most fitness gadgets and exercise machines pale in comparison to some of the incredibly productive results you can achieve performing body weight exercises.
This is a balanced total body workout combining Sandbag front squats with two body weight exercises- the timelessly beneficial pushup and chinup. These form a powerfully effective sequence of exercises giving you maximum calorie burn that will pay you awesome fitness dividends.
Outdoor workouts like this are ideal for getting you to your body transformation and fitness goals and dare I say fun to perform! Of course you can perform this workout indoors when weather conditions are poor, but I like to get outside and train in Mother Nature's terrain for a more profound metabolic effect.
I especially appreciate the challenge of doing chinups or pullups on a thick tree branch as opposed to a thin, precision engineered and balanced bar where I can do way more reps. Give it a try if you want to feel the difference!
Check out my training video below that demonstrates how to perform this exercise sequence:
Learn why the sandbag is such a great fitness tool for getting you supremely fit, building real world strength and conditioning, knocking nasty fat off your body and achieving your ideal body composition by clicking the link in this sentence!
How To Perform The Sandbag And Bodyweight Workout:
2 Chinups
3 Pushups
3 Ultimate Sandbag Squats
Perform these exercises one right after the other. This will be considered a round.
Set the clock for 15 minutes
Rest 1 minute between rounds
Do as many quality rounds as you can in 15 minutes.
The repetitions look low, but believe me as those rounds add up those reps will take care of themselves giving you an awesomely productive workout. These types of workouts are what I dub Rounds over Reps style training.
Tips And Guidelines:
Do a total body warmup before performing this ultimate sandbag workout. Your warmup doesn't need to be a long marathon of activity – try doing 5-10 minutes of solid mobility exercises. See my previous link for examples and explanations.
Be aware of your surroundings at all times and who is in your training zone, be safe, and don't overdo this workout.
Always police your training zone and clear the area of any obstructions and be aware of terrain hazards.
When choosing a weight to squat, start with something that would be a challenge for you to do 8-10 reps as a general rule of thumb.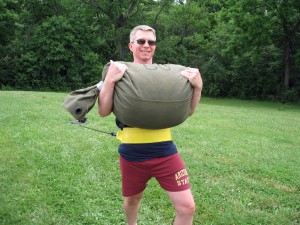 I am using the Ultimate Sandbag designed by coach Josh Henkin, but I will use other styles of sandbags as well depending on exercise selection, program design or training terrain. The Ultimate Sandbag is my go to sandbag for most of my training, so check these versatile fitness tools out.
Challenge yourself, but don't go to failure on any of these movements – increase your rest period if necessary in order to preserve good form.
As you get better, reduce your rest periods & shoot for getting in more rounds in the 15 minute time period before loading up with a lot of weight on the ultimate sandbag squat or piling on additional reps for each exercise.
Kick off the shoes and train barefoot if the conditions are favorable or use minimum footwear such as Converse Chuck Taylors like me for maximum fitness benefit.
Parting Words From The Sand Man
I pride myself on being a fitness enthusiast and coach who will not go quietly into the sunset since I have learned how to age gracefully powerful. I achieved this by adopting sane eating strategies and by designing safe, sustainable, and incredibly effective training programs like this results rich workout I shared with you.
These methods allow me to stay strong and lean, move well and pain-free, keep the nasty fat off and live a high quality healthy life providing plenty of fitness motivation.
I enjoy sharing my fitness training and health philosophies I practice that I have either adopted or tweaked from some of the fitness greats in history or designed myself. Most of my adult life has been spent testing out and experimenting countless fitness methodologies filtering out and keeping the most productive methods that pay the most fitness dividends for my precious time invested and dumping those methods with the least value.
While I share A Lot of tips, techniques, and fitness philosophy on my site, it is unrealistic to try to adopt it all into your fitness plan as we all have different health and fitness gaps in our programs we need to address. So take what you need to succeed even if it's just one concept and fill your fitness gaps, dare to get out of your comfort zone and experience the thrill of doing what works and realizing your goals!
Enjoy the strength, cardio conditioning and fat blasting benefits of this workout as the low reps and high rounds force you to pay attention to performing safe, QUALITY repetitions!
Stay Well! Take Action! Be Consistent! Train and Eat Smart! Get Rid of the Drains and Pains in Your Life! Value your loved ones and friends and get out and have some active, safe fun!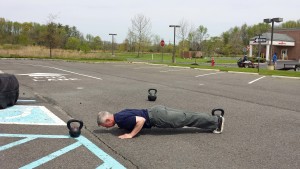 Mark Mellohusky (Mellow Husky) mellow as in laid back and husky like the dog
"There's a Sparkle in my Eyes and Iron in my Thighs!"
I Eat T-Bone Steaks And Train With Sandbags And Body Weight!
Seven Stars Fitness