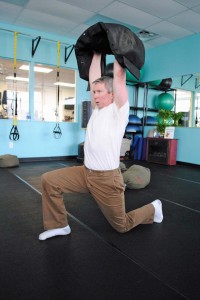 Sandbag training is one of those highly productive and meaningful workout methods I still look forward to performing and can still get excited and have some fun with even after all these years of training. Now that speaks volumes for me since I picked up my first weight in 1980 and never jumped off the fitness bandwagon since then.
So I have had a lot of time to sample various training tools and methods to determine what types of workouts are sustainable, fun, produce results and just flat-out work! This premise is based on my historical perspective and uninterrupted participation and progressive experience in the realm of physical culture. In other words, I have been "around the block" as it pertains to the fitness industry/world not content to rest on my laurels as it applies to trying, applying and tweaking sound fitness practices.
So, Why Are Sandbags So Great To Train With?
Training with sandbags is easy to learn, challenge the entire body, and have more versatility than almost any form of training equipment. A sandbag is literally a "live" training implement due to its constant shifting and instability which places an incredible demand on the entire body. Your body is forced to expend greater energy, having to constantly stabilize itself from head to toe as you are "fighting" the constantly shifting load through an exercise's path of motion. It is hard to beat the training effect you get from working with Sandbags for Fat Loss, Endurance, & Power & all the functional variety of exercises that will keep boredom at bay!
Who Can Benefit From Sandbag Training?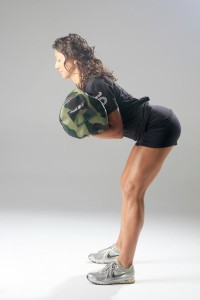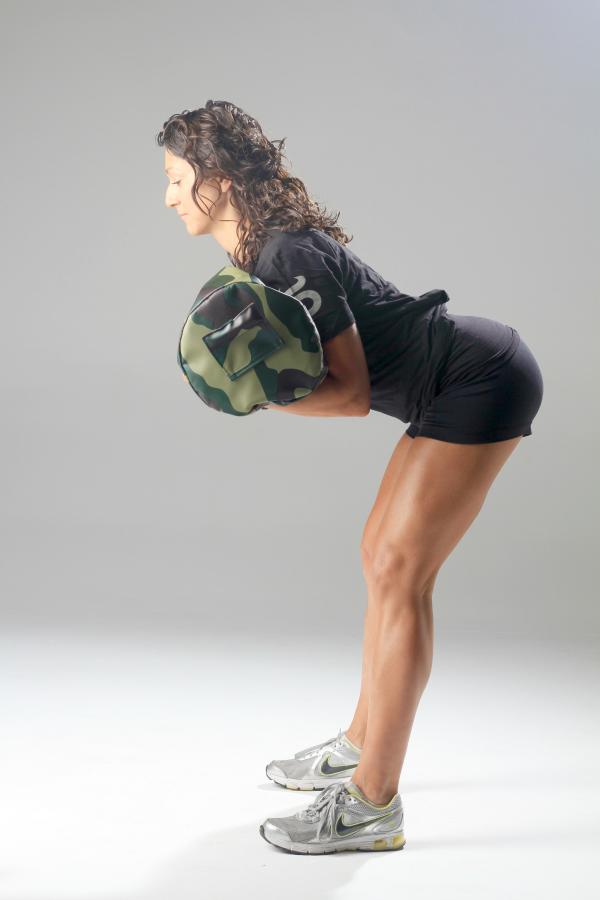 Sandbag training is for anybody who wants to incorporate a highly effective, efficient, challenging, and fun element to their training program that will accelerate you to your fitness goals and results. This training is for anybody who wants to shred fat, get lean, strong, move better & get into super condition. Training programs can be scaled to the elite Athlete to the fitness beginner yielding incredible results.
Benefits Of Sandbag Training
Sandbag training is highly applicable & transferable to real world activities such as picking up our children, furniture, groceries, shopping bags, laundry, carrying luggage & much more.
When sandbag training, with every repetition the weight & dimensions of the bag constantly shift. This means no two repetitions are the same! Talk about an efficient & challenging workout! Your WHOLE body really has to work hard on every repetition to keep up with the constant "live" shifting of the sandbag resulting in more calories being burned & more functional work being performed!
Improve your grip strength.
You don't have to train with heavy loads to see great fitness results
Incredibly challenging & Fun way to drop Fat, get lean, build strength, and plug "leaks" in your training program
REALLY want to train your core? Then Sandbag training won't disappoint!
Sandbags lend themselves to performing true total body workouts. Total body workouts provide the ultimate fitness benefits since the more muscles you recruit in an exercise movement, the more pronounced metabolic effect you will experience.This means your body responds by priming it to burn a lot of calories and continues that caloric burn for hours after the exercise is completed. That's a good deal – take advantage and exploit this metabolic effect to accelerate you to your fitness goals!
The Ultimate Sandbag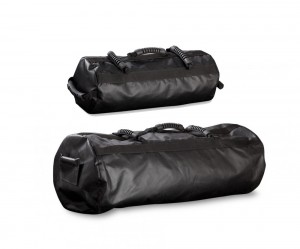 My go-to style of sandbag that I use in my training the majority of the time is the Ultimate Sandbag.The idea of training with sandbags has been around for a long time. However, there have been some great upgrade designs over the last decade or so that have really made it easier to introduce the general fitness population to these wonderful fitness tools. Coach Josh Henkin has done a fantastic job designing his product the Ultimate Sandbag of which I am a big fan of and use regularly.
The Ultimate Sandbag and the DVRT System
The safe, sustainable and proper use of Sandbags in a fitness program & the training principles associated with these incredibly versatile & effective implements are taught within a system known as Dynamic Variable Resistance Training (DVRT.)
I was so intrigued and impressed by the Ultimate Sandbag when I tried it, I became certified in their use through the DVRT system developed by coach Josh Henkin. While I have a lot of respect for the product Josh created, I have even greater respect for him as a strength coach, how well he communicates the principles of his system and the integrity by which he conducts business.
DVRT refers to the use of training implements that have an interior load that is not static. This interior load may take the form of sand,water or other materials. The idea to keep in mind is that this weight is not static, but constantly shifting which creates an unstable training implement. In other words, you don't have to use a heavy, awkward weight to train with to get an incredible training effect that lends itself to super fitness results and sustainable progress!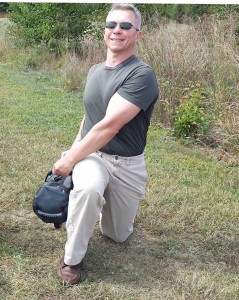 DVRT training emphasizes performing the sandbag exercises in a challenging variety of body positions that are chock full of meaningful regressions and progressions scaled to the trainee's fitness level. This means that the training load(weight of the sandbag) is not the primary consideration in order to position yourself for fitness success.
This ensures that you will get a highly productive training effect without having to constantly reach for a heavier and heavier sandbag which would eventually make your training progress unsustainable.You would eventually get to a point where the weight of the sandbag would make it impractical to lift and compromise your technique if you relied on the load of the sandbag as your primary factor for fitness progress.
Believe me – there are more than enough challenging positions to keep you progressing and your training fun and fresh without having to reach for a heavier sandbag very often!
However, the most vital component of the DVRT system are the principles of the program itself and applying them to the individual,  athlete, group or fitness enthusiast to best meet their fitness goals.
What Sandbags Are The Best To Use?
You will get a variety of answers from the fitness community , but I will offer my perspective based on my experience, trial and error and the types of programming I design to accelerate trainees and myself toward fitness goals in a sound, safe, and sustainable manner.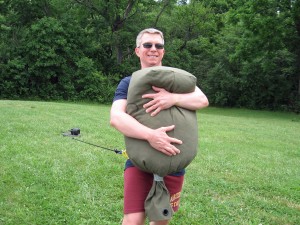 I will use  different types of sandbags in my training programs ranging from the sleek, ultra-modern and highly versatile Ultimate Sandbag models with various handles and grip points to the timeless canvas models you can make yourself. Each sandbag style has distinct beneficial uses and qualities that serve a purpose in the programs I design, teach, practice and preach.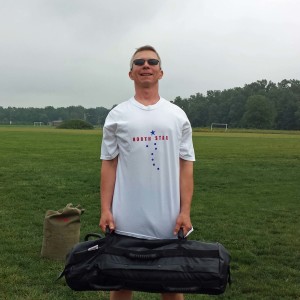 While the Ultimate Sandbag is my go-to style of sandbag used the majority of the time, I also train with some home made canvas sandbags. These are my "beater" sandbags as I like to use these bags in my training if I am doing low skill exercises like loaded carries and don't mind sending them crashing hard back to mother earth especially if I am outside in rough or dirty terrain. While the Ultimate Sandbag is tough and durable, I don't like to be too brutal on them as even they have a limit to the amount of abuse you can heap upon them.
I like having both types of sandbags in my training arsenal, but if you have limited space or can only choose one type, get the ultimate sandbag as it is the most user friendly, versatile and lends itself to performing the widest variety of exercises and is easier to transport.
Sandbags Are Great To Combine With Other Training Tools
You can incorporate sandbags into your training program as a stand-alone workout or thoughtfully use them in your workout with other training tools. I use them successfully, progressively and sustainably in conjunction with my kettlebell training, body weight exercises, mobility drills, TRX suspension training and as an excellent movement and posture technique corrective implement. The sky's the limit with the meaningful variety you can program into your training.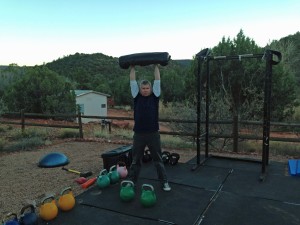 Is Sandbag Training Right For You?
That really depends on your fitness goals and what you are trying to achieve.If your goals are burning a lot of calories, getting rid of that nasty, excess fat , getting lean and strong and moving well without wasting your precious time at the gym, then you might like what training with sandbags can do for you. Here's a simple, yet thoroughly challenging  sandbag squat workout that will do more for your total body fitness in under five minutes than most anything your average gym goer will ever experience.
However, if you are content chasing after marginal fitness results at the local mega gym you haunt and have an aversion to getting out of your "comfort zone" and straying from the gym herd in order to experience meaningful progressive fitness that will truly upgrade your quality of life – Then don't change a thing!
I am always searching for better ways to improve my fitness and accelerate my progress utilizing the simplest, most time efficient challenging methods that are sane, safe and sustainable for the long haul with some fun and excitement sprinkled in.
Well my friends, Sandbag Training more than fits the bill when applied to the above criteria! Give them a go – you won't be disappointed.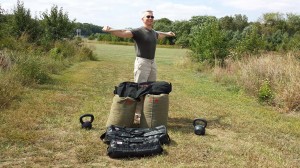 Stay Well! Take Action! Be Consistent! Train and Eat Smart!  Get Rid of the Drains and Pains in Your Life! Value your loved ones and friends and get out and have some active, safe fun!
Mark Mellohusky
I Eat T-Bone Steaks, Lift Kettlebell Weights And Have Been Known to Do The Sand Dance
Seven Stars Fitness