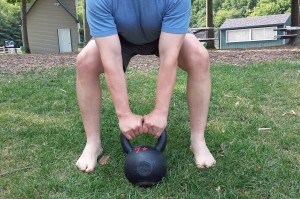 So Why do I advocate training barefoot during a workout? If your guess was that I am trying to cultivate some kind of modern day hippie commune fitness movement or that I have some kind of foot fetish – you would be wrong!
Interesting guesses, though. It's funny – most people pay little or no attention to our feet as we forge our way through life, let alone realize how important they are when we exercise and seek maximal fitness gains. If you are like many, you probably don't bother thinking about the incredibly important role your feet play in your physical success and well-being until you actually have an issue with them.
So give your feet the freedom they desire and learn why it is so important for them to have an unrestricted relationship with good old mother earth.
Seven Great Reasons To Train Barefoot
1. Most shoes are over engineered and restrict the natural movements of our feet leading to all kinds of ailments up and down the body's entire kinetic chain(all areas between the feet and head)
2. Training barefoot lends to better balance, stability and posture. Now who doesn't need more of this in their life?
3. Losing the shoes while training puts your body into a position of better alignment which means a safer workout
4. Assists the feet in transferring more stimulus to the brain which recruits more muscle fibers to perform better on all your lifts and in turn will burn more calories
5. Allows you to grip and root into the ground better, creating a strong base of support
6. Training barefoot increases the range of motion, flexibility and mobility of the foot
7. And finally – It just flat -out feels good, unrestricted and liberating!

Wear Minimal Footwear If you Can't Go Barefoot
While training barefoot has many benefits, there are of course times when wearing socks or footwear may be required depending on the environment, terrain and circumstances you have to deal with. For example, when training outdoors. But I will often train barefoot outdoors if the conditions are safe and favorable like on sand at the beach or volleyball court or a nice plot of grass.
When you need to use footwear go as minimal as possible. Choose something that is flat and low profile with no heel devoid of all the thick foam and filler that interfere with your foot's ability to transfer vital stimulus information to your brain.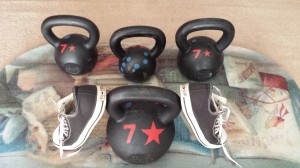 I wear reasonably priced shoes like Converse All Stars Chuck Taylors when I train outside if I am in very rough terrain or there are known hazards like sharp stones, glass and other nasty things. There are numerous other expensive minimalist shoe and footwear choices on the market that will do the job, but I like the feel and value of my old reliable Converse sneakers and get a lot of versatile use out of them.
Try going barefoot or scale down to minimal footwear the next time you train whether you are doing a total body kettlebell workout, bodyweight exercises, mobility drills, sandbag training or anything else that will get you meaningful results and drive you to your fitness goals.
Our bodies are an amazing interconnected piece of organic engineering and a lot of our physical well-being starts where we contact mother earth – Our often neglected feet!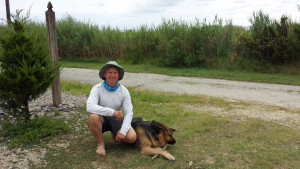 Stay Well! Take Action! Be Consistent! Train and Eat Smart! Get Rid of the Drains and Pains in Your Life! Value your loved ones and friends and get out and have some active, safe fun!
Mark Mellohusky
I Eat T-Bone Steaks, Lift Kettlebell Weights And Pay Attention To My Feet!
Seven Stars Fitness