Try this core crushing total body exercise you can perform most anywhere with just a stick if you want to drive your workouts and fitness to new heights.
Like all of the methods I gladly share with you – These are the types of exercises where you get that feeling and rush of knowing you have tapped into something special and worthwhile!
Check out the demo video:
This uniquely simple, yet challenging stick hold leg raise exercise will work your body from head to toe really super charging your metabolism and will chase that excess, nasty fat from your body!
These leg raises look deceptively easy, but you will activate muscles you never knew you had while racking up some awesome fitness results.
Start out by doing a set of 5-10 repetitions depending on your fitness level. I like to layer 1-2 sets of these in with many of my training sessions. Don't overdo this exercise. you will get the best results practicing a set or two of these within your workout during the week.
I am using my go-to mobility stick which you can buy at most hardware stores.
It is a 5 foot length of 3/4 inch diameter pvc pipe.
It is one of the most versatile fitness tools in my arsenal. It's durable, effective and inexpensive. Go get a few!
You can use a broom stick, but the flexible nature of the pvc lends itself to a greater exercise experience and more profound metabolic effect.
Kick off the shoes and train barefoot if the conditions are favorable or use minimum footwear such as Converse Chuck Taylors like me for maximum fitness benefit.

READ: The Top 7 Reasons To Train Barefoot to maximize your training and fitness results
Tips And Techniques
Hold the stick as if you were doing a bench press
Keep the elbows straight, but keep shoulder blades into ground
Legs are straight with toes pointed toward you
Bring toes as close to stick as possible
Gently kiss the ground with your heels
Perform at slow, controlled pace for max benefit
Keep a bend in the stick like you are trying to break it in half for a greater challenge
Don't forget to breathe! Avoid holding your breath!
Add this floor exercise to your training – It's easy to learn, but deceptively challenging and will reward you with great fitness results which is the bottom line to all my methodologies I enjoy sharing with you!
I choose to perform these types of exercises as they allow me to stay strong and lean, move well and pain-free, keep fat off and live a high quality healthy life without boring the hell out of me or wasting my precious time.
Give this awesome workout a try to really fire up your fitness motivation and accelerate you to your worthy fitness goals!
It's amazing the results you get when you stop following the fitness herd, dare to be different, get out of your comfort zone and do what works!
Stay Well! Take Action! Be Consistent! Train and Eat Smart! Get Rid of the Drains and Pains in Your Life! Value your loved ones and friends and get out and have some active, safe fun!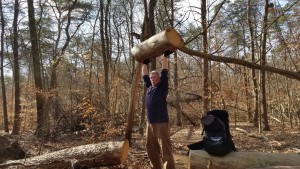 I'm Mark Mellohusky (mellow-husky) an often barefoot eternal student of health and physical culture who will not go quietly into the sunset since I have learned how to age gracefully by adopting sane eating strategies, staying strong and lean, moving well and pain-free and conquering nasty fat. All without spending hours haunting gyms doing hours of sappy low value media endorsed exercises.
There's a sparkle in my eyes and iron in my thighs!
Seven Stars Fitness