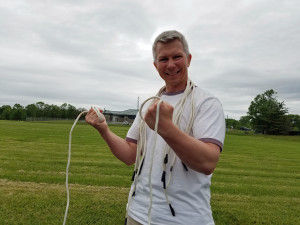 I want to show some unconditional fitness love to the timeless and wonderfully effective jump rope – specifically the use of the two piece jump rope. The jump rope is one of those iconic and productive fitness exercises that tends to get swept under the rug and is not shown much respect these days by fitness enthusiasts. A lot of folks seem to be hysterically tripping over each other in the race to constantly chase fitness variety and whatever is perceived as new and "cool" in the fitness world – often racing past and discounting timeless fitness methods like jumping rope. That's a shame because jumping rope is a fantastic and fun way to accelerate you to your worthy fitness goals when effectively programmed into your training routine.
I originally learned about using the two piece jump rope from world renowned coach Steve Maxwell. Steve is a true universal icon of physical culture who I am proud to say has had a profound influence on how I view and approach physical fitness. I also learned the foundations of my kettlebell training from Steve and consider myself truly fortunate to have studied within his system. When they erect the Mount Rushmore of fitness and coaching, Steve Maxwell should be one of the first inductees.
Benefits Of Using The Two Piece Jump Rope
While you will get much of the same metabolic benefits as using a one piece jump rope, the two piece jump rope lends itself to experiencing some useful additional logistical benefits.
You don't need a lot of clearance above your head for the ropes to travel using the two piece method and it works great in limited or confined spaces.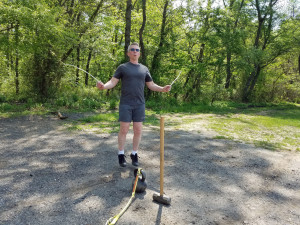 You don't have to worry about any objects or your feet getting caught in the downswing of the ropes using a two piece jump rope. This insures your jumping rhythm, cadence and concentration doesn't get broken and tends to be safer as there is nothing for the ropes to catch.
Jumping rope promotes toning your muscles, increases in strength, building endurance and conditioning, develops coordination and really dials you in to connecting with your mind, body and environment as you perform this timeless, productive exercise.
Jumping rope can burn up to 16 calories per minute.
It may not be apparent, but jumping rope is a full body exercise and not just a leg exercise. Not only do you get the obvious super cardiovascular benefit, it works every muscle from your toes to your head. It hits your legs, core, arms, butt and back and every stabilizer muscle up and down the kinetic chain.
The jump rope is an easily portable fitness tool. I keep multiple two piece jump ropes within easy reach as I consider them that important to my training. I keep a stash in my car, some in my gym bag, my office and hiking backpack. It's great to have spares on hand for your friends to use so they can jump too!
The two piece jump rope is great for both indoor and outdoor use
Check out my video demo of using a two piece jump rope:
Jump Rope Tips And Techniques
Don't jump higher than necessary. Beginners and overzealous trainees often over exaggerate their jump thinking they will get a greater workout. You don't need to jump much more than an inch off the ground to experience a productive metabolic effect. It's easier on the joints, too!
You do put some stress on your ankles, knees and hips when jumping rope, but done properly this should not be a big issue for most trainees. Just stay high on your toes and avoid impacting the ground with your heels and most folks will be fine.
I go with as minimal footwear as possible when jumping rope, often going barefoot if training indoors, in sand or a forgiving terrain. Wearing shoes with too much cushion, heel and thickness actually inhibits the normal movement patterns of your feet. I usually just train in my trusty, no-nonsense and low profile Converse Chuck Taylor's if I am concerned about my jumping terrain.
Remember, the rope movement generation is primarily in the wrists – try not to "windmill" your arms to move the ropes through their arc.
While you don't have to worry about your feet or objects getting caught in the downswing of the rope with a two piece rope you do need concentration and body awareness as you have to independently make slight adjustments with your wrists to keep your rhythm and movement flow balanced for each side.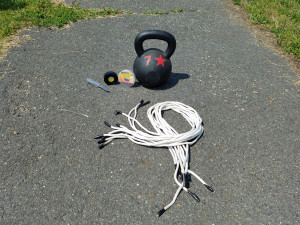 Two piece jump ropes are easy to make and inexpensive. Make multiple sets and keep a pair handy wherever you travel or have some spares for some friends to jump in and participate. I cut my rope into 4 foot lengths and tape the ends with electrical tape to add a little weight and to keep from fraying.
I have introduced and taught the two piece jump rope exercise to many group exercise classes comprised of trainees of all shapes and sizes. The 4 foot lengths have worked fine so far, but very tall folks can always add some length to the rope. You can always choke up on the rope a few inches or wrap it around your fingers to find your sweet spot length if you need to shorten it up.
Jumping Rope Doesn't Have To Be Boring
The main rap against jumping rope is that it's boring and tedious. I agree, but that's only if you put no thought into your workout and just jump away like a drone.
Yes, jumping rope is a fantastic exercise and you can get good fitness benefits by simply doing isolated sessions of long cycle jumping. Some folks love training this way and don't mind long stretches of repetitive jumping rope and do well. If you are mentally wired to exercise in this fashion and can do it consistently and get the results you want, that's great!
Not me, however! Jumping rope for endless minutes, while having fitness value, just isn't my bag. I get bored and tuned out doing any monotonous, steady state exercises like jogging or attaching myself to treadmills and related devices. I just feel like a disconnected zombie hamster when jogging or using most fitness machines. Besides, I don't feel the often marginal fitness benefits justify all the precious time invested in those types of activities if your goal is to be truly fit and capable while making the best use of your time.
Maximize And Energize Your Jump Rope Training
There is no law that states you have to do long, tedious sessions of jumping rope to get great results and further your fitness. If there were, I am a chronic repeat offender and violator of this law so the jump rope police can come try to take me away!
Over the years, I have experimented using the two piece jump rope in a variety of exciting, challenging and productive ways. I will find ways to strategically fold jumping rope into my training in brief, intensely focused chunks in order to achieve a maximum metabolic effect that keeps me engaged while rarely being bored. I will use the two piece jump rope in every phase of a training session – In the warmup, in the actual workout and the cool down portion of the session.
One of the most productive ways to maximize your jump rope training is to stop focusing so much on counting your repetitions. I like to base my jump sessions by the clock. I will usually do 30 seconds or a minute timed sets depending on how intense the workout is I am doing. This frees up your mind from counting repetitions so you can concentrate on quality technique and your body/mind/terrain awareness as you perform your two piece jump rope sets.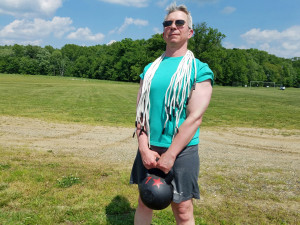 Simple fitness methods like jumping rope are super stand alone exercises, but I like to strategically pair, program and layer them into a training session using body weight exercises and other fitness implements like kettlebells, sandbags, sledgehammers,  TRX suspension training or even a big old log. This will skyrocket your fitness to new levels as well as keep your training sessions productively engaging, fresh and exciting. This type of strategy is central to my philosophy of performing maximum fitness in minimum time to produce stellar results.
For example, it's great for jumping over a fitness tool like a kettlebell or dumbbell immediately after doing an exercise keeping your routine tight and giving it a productive flow. Check out this jump rope and kettlebell swing workout to see how these exercises flow together.
I will even take the two piece jump rope on my trail hikes and spontaneously break into a brief jumping session to mix things up and maximize my fitness time every 100 yards or so. I drape the ropes around my neck as I am walking and break into a 30 second jump session and then continue on my hike. I especially love to walk the beach barefoot doing this as it's challenging to alternate jumping between the wet, firmer sand and the looser, dry sand. Grab some friends or loved ones and give it a try – it's a fun and productive way to spend quality time!
These are just a few ways I incorporate the highly versatile two piece jump rope into my fitness lifestyle and training. Explore my site to see other ways to productively add this exercise to your workouts. The sky's the limit on the ways you can layer this timeless exercise into your workout!
I seek out and practice getting the most fitness value out of a training session for my precious time invested which is the primary factor I use to design a training session. Life is too short and time is too precious to me to simply drift around the fitness world and follow the herd chasing after over hyped methods that produce marginal benefits. So give the two piece jump rope a shot, get the fitness results you desire and don't be afraid to break from the herd to do what works!
Stay Well! Take Action! Be Consistent! Train and Eat Smart! Get Rid of the Drains and Pains in Your Life! Value your loved ones and friends and get out and have some active, safe fun!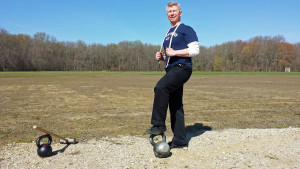 Mark Mellohusky (Mellow Husky) mellow as in laid back and husky like the dog
"There's a Sparkle in my Eyes and Iron in my Thighs!"
Seven Stars Fitness