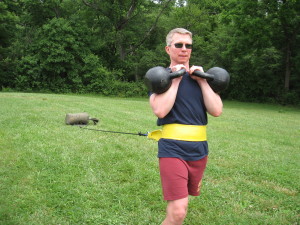 Kettlebell carries are great individual exercises performed by themselves and will reward you by drastically improving your overall fitness. However, perform these same kettlebell exercises in a sequence one right after the other(referred to as a complex) and you will skyrocket your total fitness to new levels guaranteed.
This is an iron line style of workout as you will be working your way down the chain or line of kettlebells experiencing maximum exercise benefit in minimal time experiencing an incredible total body workout that's easy on the mind, challenging and devastatingly effective at propelling your fitness forward!
So if you are looking to get lean, tight and strong while taking your conditioning and movement quality to new heights as well as just flat-out feel incredible then do you and your body a favor by incorporating kettlebell carries into your fitness routine.
Oh and this kettlebell workout will also burn A Lot of calories and prime your body to be a walking calorie furnace since your metabolism will be primed and elevated hours after you finish training. The more muscles you recruit to perform a movement or exercise the more calories you will burn and the metabolic effect will be greater.
This is true with a well designed kettlebell workout since you are literally using practically every muscle in your body and challenging all your stabilizing systems.
Take the time to do a proper warmup before you ramp up the intensity and jump into this kettlebell workout
Here's the Kettlebell Carry Workout:
The Kettlebell Carries:
Double Kettlebell Rack Carry
Kettlebell Farmer's Walk
Double Kettlebell Overhead Carry
Place three pairs of kettlebells in front of you in a line(this is the chain.)Experiment with the weights to see what you can safely handle with good form.
Perform all of the kettlebell carry exercises in the order listed above one right after the other – this is a round.
Check out this awesome kettlebell carry workout with two of the fittest and fun ladies I always enjoy training with!
Tips and Guidelines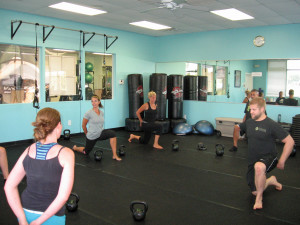 For starters kick off the shoes and go barefoot or wear minimalist footwear to perform this kettlebell workout.
I suggest using your heaviest weight for the farmer's walk, a medium weight for the racked carry and a lighter weight for the overhead carries. Scale the load up or down depending on your fitness level and experience and please do not go to muscular failure on any of these movements as you are looking to challenge your body using good form and common sense – Not tear it down!
Don't get lazy when you are hoisting the kettlebells up and returning them to mother earth- use good form and don't round your back.
Keep your abs braced and walk with a tall posture in short, quick steps
Breathe in short, rhythmic breaths (in through nose out through mouth)as your breathing pattern will be challenged
Don't let your body lean forward/back or side to side as you walk
Perform these kettlebell carries using a fixed distance (say 25-50 steps depending on load) or time your walks. Choosing a fixed distance is ideal for most trainees.
In general, the heavier the load walk shorter distances and for lighter loads walk longer distances. Experiment with these variables, but remember to cut a movement short before fatigue compromises your form.
Try setting a clock for 10 minutes and see how many quality rounds you can complete. Rest as much as you need between rounds, but you do want to keep it challenging. Try starting with a 1 minute rest between rounds and scale it down as you get better, but listen to your body and don't overdo it!
Give this kettlebell carry workout a spot in your valuable training schedule and say goodbye to that nasty fat and hello to a new lean and powerful you!
Stay Well! Take Action! Be Consistent! Train and Eat Smart! Get Rid of the Drains and Pains in Your Life! Value your loved ones and friends and get out and have some active, safe fun!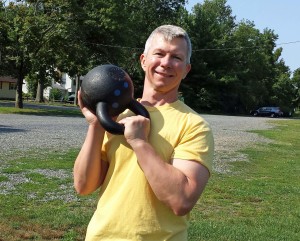 Mark Mellohusky
Kettlebell Training Specialist
I Eat T-Bone Steaks and Carry Kettlebell Weights!
Seven Stars Fitness