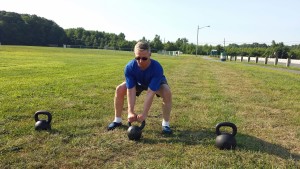 Line some fitness-forging iron up and take your kettlebell workout to an exciting and challenging level for a total body workout that is productively deceptive in its simplicity and rewards.
If your fitness goals include getting beach body ready or getting a bikini body, then these types of workouts I share with you should be high on your fitness and health list to get in shape fast!
Of course you still need to eat like a sane adult to realize maximum health and fitness gains regardless of your fitness program. You need to understand and wrap your head around this concept before expecting meaningful results from any program you participate in. If you are not clear on what it means to eat like a sane, responsible adult, explore my site for exact tips to position you for success. Just do yourself a favor and skip all the over hyped and potentially harmful powders, pills and potions peddled by all the disingenuous fitness phonies, supplement wizards, backyard alchemists and inept charlatans looking to make a quick buck off your desire for a fantasy fitness solution. These parasites are no better than drug pushers.
Ideal fitness and health isn't complicated – eat right, move right and avoid the siren call of all the snake oil merchants who want you to buy into their phony "get fit quick" and instant gratification fitness programs and schemes.
This kettlebell swing workout is a true total body workout that leaves no muscle left out and will get you lean and strong while burning calories like a blast furnace. What a Great metabolic deal!
Take a look at this demonstration of my iron line training style to get you started and accelerate your fitness here:
The Iron Line Kettlebell Swing Workout
Position three kettlebells in a line (or chain) as it is also known in the following order: Heavy, Light, Medium. In my demonstration I use a 24kg, 16kg and 20kg iron line of kettlebells in that order.
Do five kettlebell swings at each kettlebell right down the line without pause starting with the heaviest. Once you have done five swings at each kettlebell, this is considered a round. Just let those rounds add up as the repetitions will  take care of themselves as you crank them out in manageable chunks giving you an incredible metabolic training effect without killing your body.
Learn more about the super benefits of incorporating a  Rounds Over Reps training style into your fitness program.
A round will consist of performing 5 kettlebell swings at each kettlebell right down the line.
Set the clock for 10 minutes and see how many quality rounds you can perform with good form.
Why Train Like This?
These types of workouts are powerfully productive and time efficient and won't waste your precious time if you happen to be a busy person.
It's a true total body workout hitting every muscle for maximum fitness benefit
The kettlebells are lined up in such a way (heavy, light, medium) that you will be putting your body through a sliding scale of intensities within a round giving you a supreme challenge yielding an incredible fitness payoff. The intensity is like a wave throughout the round. You get just enough of a break when you jump off that heavy kettlebell and swing the light one before ramping up to a heavier kettlebell again creating a super productive exercise flow.
You must make adjustments at each kettlebell in the iron line workout to quickly compensate for the different weights which really forces you to concentrate, hone your form and dial in to your technique. Of course this forces your body to work harder which creates a greater metabolic effect.
It's sustainable, physically and mentally engaging and dare I say fun to perform.
I choose to perform these types of exercises and training programs as they allow me to stay strong and lean, move well and pain-free, keep fat off and live a high quality healthy life without boring the hell out of me or wasting my precious time.
Tips And Techniques
Do a brief and meaningful total body warmup before diving in to your training sessions.
Police your training area to make sure it's free of obstructions, sharp objects, gopher holes, divots, playing kids or animals. You are swinging some heavy metal around, so make sure bystanders, pets and loved ones are out of your training zone.
Rest as much as you need between rounds, but do keep it challenging and don't lollygag too long. Try a 1 minute rest and see how you feel as you can always increase or decrease the rest period depending on your fitness level and how you're feeling that day.
Kick off the shoes and train barefoot if the conditions are favorable or use minimum footwear for maximum fitness results. I like Converse Chuck Taylor footwear if I need protection for my tootsies.
Swing the lighter kettlebells with the same technique and solid form you use for the heavy kettlebell. There's a wise training proverb that applies here -"treat and move a light weight like it's a heavy weight" This means don't get careless with your form just because you get too cocky moving a lighter weight around. Most injuries and accidents involve folks training with lighter weights/loads as they tend to throw caution to the wind and disconnect from sound technique and do unsafe stunts with them. So please respect the weights equally.
Let's Swing On Out
So do some kettlebell swings on the iron line to work on that vitally important posterior chain musculature that many neglect which include your backside muscles like your butt, hamstrings and lower back. If your goal is to get lean, tight, mobile and strong in all the right places then do your kettlebell swings as there is no better fat eraser or butt shaper/tightener!
Give this kettlebell workout a shot in your fitness program. It fits right into my philosophy of performing Maximum Exercise in Minimal Time that produce Stellar Results and will accelerate you to your ideal body composition and a solid fitness foundation.
I invite you to explore my site to learn more successful and sustainable fitness strategies along with meaningful workouts designed to get a body built for go and show.
Stay Well! Take Action! Be Consistent! Train and Eat Smart! Get Rid of the Drains and Pains in Your Life! Value your loved ones and friends and get out and have some active, safe fun!
Your pal in fitness along for the journey,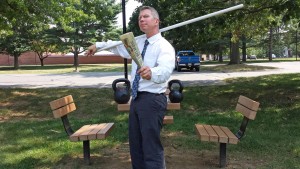 Mark Mellohusky (Mellow Husky) mellow as in laid back and husky like the dog
"I Eat T-Bone Steaks And Lift Kettlebell Weights"
"There's a Sparkle in my Eyes and Iron in my Thighs!"
Seven Stars Fitness