Try this super effective fat erasing kettlebell workout that will build strength, endurance, conditioning and improve your mobility and  posture.
I like to practice maximum exercise in minimum time that produce stellar results as this intense workout definitely delivers!
And these are the types of training methods designed to give your metabolism a super boost to incinerate those excess calories – Pronto!
Check out the kettlebell squat, lunge and carry workout below:
LEARN:  The Incredible Training Benefits Of Kettlebells  for getting you supremely fit, knocking nasty fat off your body and achieving your ideal body composition.
Notice that you don't put that kettlebell down between each movement so you will be putting your body through some intense time under tension if you choose a challenging weight.
And this kettlebell workout will really clobber your core in a progressive and highly productive way!
How To Perform The Kettlebell Workout
Perform the following Kettlebell exercises in succession which constitutes a round:
1) Kettlebell Reverse Lunge 5 left/5 right alternating
2) Goblet Squat 5 repetitions
3) Heartbeat Carry – KB placed against the chest, elbows in, tall spine as you walk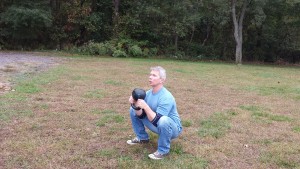 Set the clock for 10 minutes and see how many quality rounds you can perform
I realize that I performed less repetitions that each exercise calls for since I really want you to get a feel for patterning the movements and not bore you to death watching me do rep after rep.
Tips And Guidelines
Kick off the shoes and train barefoot if the conditions are favorable or use minimum footwear such as Converse Chuck Taylors like me for maximum fitness benefit.
Read: The Top Seven Reasons To Train Barefoot to further position you for fitness success.
Do a meaningful warmup to prepare your body for this deceptively intense workout
Keep the exercise area free of obstructions and pay attention to your surroundings
Rest as much as you need after a round, but keep it challenging. Make sure you get enough rest between rounds to maintain good form on the next round. Try a 1 minute rest and adjust up or down from there depending on your level of fitness.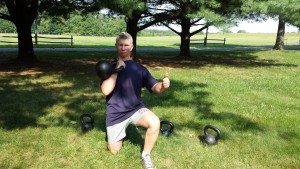 Choose a challenging kettlebell size to perform this complex. Gals start with an 8kg or 12kg kettlebell. Guys start with a 16kg kettlebell. If you find you are not being challenged, then bump up to the next size or if it's too much scale down a kettlebell size. But remember – good form and common sense are mandatory!
Don't go to complete muscular failure on any of your repetitions- end the exercise a rep or two before this happens and advance to the next exercise. If fatigue starts to make your movement quality and exercise technique suffer, then take longer rest breaks between rounds – Do not compromise your form.
Play with the reps and distance walked once you get better and have some fun and take pride in watching your body composition and fitness foundation improve.
So if you want a tight, shapely butt, killer legs, a flat tummy and some awesome strength & conditioning – put this kettlebell workout near the top of your fitness program!
Important: You still need to eat like a sane and responsible adult to see meaningful results regardless of how "Badass" you tell me your training program is.
About Me
I pride myself on being a product of my own advice and the methods I practice enable me to be a powerfully active (often barefoot) student of physical culture who will not go quietly into the sunset since I have learned how to age gracefully by adopting sane eating strategies, staying strong and lean, moving well and pain-free and conquering nasty fat. All without spending hours haunting gyms doing hours of sappy media endorsed low value exercises and gulping down expensive and questionable supplements.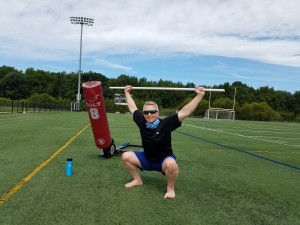 I enjoy sharing my fitness training and health philosophies I practice that I have either adopted or tweaked from some of the fitness greats in history or designed myself. Most of my adult life has been spent testing out and experimenting countless fitness methodologies filtering out and keeping the most productive methods that pay the most fitness dividends for my precious time invested and dumping those methods with the least value.
Your fitness pal who never sugar coats success,
Mark Mellohusky (Mellow Husky) mellow as in laid back and husky like the dog
There's a sparkle in my eyes and iron in my thighs!
Seven Stars Fitness