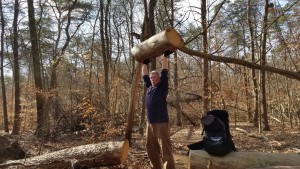 Most people don't think about it or take it for granted, but your body is one of the most unique masterpieces of organic engineering that exists in the universe.
If you treat it well, move it around often in a thoughtful manner, feed it quality foods and practice mentally positive habits you will get a lot of quality mileage out of your body both physically and mentally.
If you don't take care of your body, It will give you tons of feedback telling you to get your act together-essentially pleading with you to take action to put it into a positive state of balance. Most folks just ignore what our bodies are telling us and continue habits and activities that make their situations worse.
Don't be like most folks!
Your body is very smart and does not sugarcoat the truth when communicating with you as it is constantly letting you know if something is not right. A lot of our problems are due to the fact that our bodies are out of balance mostly due to our own doing if we are honest with ourselves.
Our bodies are incapable of leading us astray. When we consciously over ride and go against our bodies' beneficial advice is when we will truly go astray and suffer both physically and mentally.
I have been guilty of ignoring the great advice my body tries to tell me more times than I care to remember, but I learned my lesson over the years!
Ignore At Your Own Risk
Here are some common scenarios of problems experienced when you don't listen to your body I have either witnessed or experienced myself.
See if you can relate to any of these: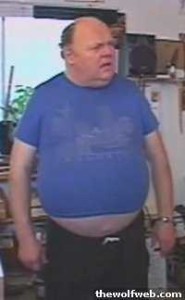 Problem: You are gaining way too much fat – especially collecting on your gut, hips, butt and thighs.
What Your Body Is Telling You:  Act and eat like a sane, rational and responsible adult and move me around more or I will keep rebelling against your poor habits and choices by making you fat, unhealthy and prone to a huge list of ailments!
READ:   Forging Your Ideal Body Simplified to solve your nasty fat problems!
Problem: You are constantly riddled with aches and pains feeling stiff and immobile all the time
What Your Body Is Telling You: Get me up out of that chair or couch. I wasn't designed to stare hunched over at a computer screen all day! I need activity to thrive and keep my joints from stiffening up. Move me or lose me! Walk me around throughout the day or I will adapt to your sedentary ways by seizing up and making simple movement painful!
You don't need to train like an Olympic athlete to get in your ideal fitness shape – Just move your body around like it was designed to in order to thrive!
READ:  Go Take A Hike to see how enjoyable and productive a simple fitness program can be!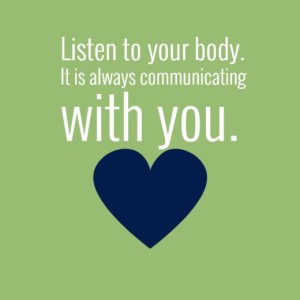 Problem: Your fitness training is making you prone to injury, sickness and muscle pain.
What Your Body Is Telling You: Stop overloading, over training and frying my central nervous system! I can't compensate for all the insane activity you are forcing upon me so let me rest and heal! If you continue ignoring and stupidly pushing through my pain signals, I will be forced to shut down hard and invite illness and injury as my immune system is also sapped by your irresponsible actions!
READ:  No Pain No Gain Drains The Body And Brain and learn how to train productively and pain free!
These are just a few examples of the feedback your body screams at you that people can readily relate to when the counterproductive lifestyle habits you follow throws your body out of balance.
So don't be like most people who ignore what their bodies are trying to tell them or simply give up and resign themselves to a life of  being negatively convinced that they are powerless to affect positive change.
So please remember – Your body is one of the few things on this planet that won't lie to you or bullshit you and looks out for you like a loyal dog – but only if you listen to it!
Stay Well! Take Action! Be Consistent! Train and Eat Smart! Get Rid of the Drains and Pains in Your Life! Value your loved ones and friends and get out and have some active, safe fun!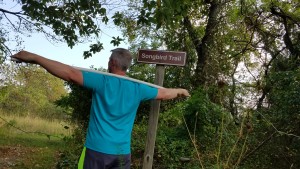 Mark Mellohusky (Mellow Husky) mellow as in laid back and husky like the dog
There's a sparkle in my eyes and iron in my thighs!
Seven Stars Fitness