The kettlebell windmill exercise is an "old school" total body core crusher that positions you to rack up maximum fitness gains in minimum time. Learn why and check it out:
This is one of those "one stop shop" exercises that promotes strength, mobility and being powerfully capable in the real world and not just the artificial confines of most gyms.
It's no secret I like to do meaningfully productive exercises that give you many benefits that transfer over to making you physically and mentally capable in the real world. The kettlebell windmill and all of the methods I share with you on this site meet this standard.
I won't argue that just being strong is a great feeling in and of itself, but adding that mobility component will make you a supremely capable trainee resulting in a much better quality of life!
Why Do I Do These Kettlebell Windmills?
Builds and maintains a super core
Trains you rotationally– which we could all use more of
Full body exercise -the more muscles activated means more total fitness results!
Works spine from various angles
For shoulder strength/stability
Works those butt muscles.
Ladies – you all tell me you want that tight body highlighted and anchored by a solid, shapely booty. These are the types of quality exercises you need to be doing.
Activates those back muscles
Awesome hip mobility
Flexibility component
Oh and these will burn calories off your beautiful bod like a blast furnace!
Learn how incredibly effective training with kettlebells are for getting you supremely fit, knocking nasty fat off your body and finally achieving your worthy fitness goals and ideal body composition here:
READ: How Good Are Kettlebells For Fitness?
Tips And Techniques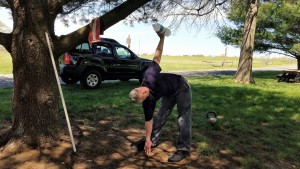 Practice and own the windmill movement itself first before rushing to add weight.
Try using a water bottle in your hand to practice.
You don't need to touch the ground.
So don't force the movement just to get down to the floor. Practice and get your quality reps in and you will get better range of movement while still getting a solid workout!
Do an equal amount of repetitions on each side.
Try doing 3 reps on each side and advance forward from there depending on your fitness level.
Point your toes toward the side carrying no weight.
Keep feet offset and roughly parallel
Hinge hips and butt straight back as you descend
Keep your legs straight
Look at the kettlebell the entire movement
Trace down inside of leg as you descend
Don't hold your breath!!
And please do a Proper Warmup before engaging in your training!
Give the kettlebell windmill exercise a shot, folks to accelerate you to your thoughtful fitness goals that will really fire up your fitness motivation.
I always share my best methods that produce the best results with you so please approach your fitness in a sane, sustainable and rational manner!
Stay Well! Take Action! Be Consistent! Train and Eat Smart! Get Rid of the Drains and Pains in Your Life! Value your loved ones and friends and get out and have some active, safe fun!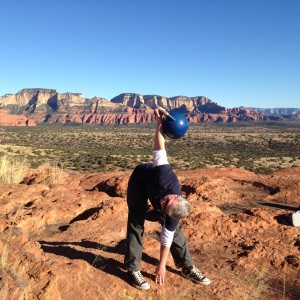 Mark Mellohusky (Mellow Husky) mellow as in laid back and husky like the dog
There's a sparkle in my eyes and iron in my thighs!
Seven Stars Fitness