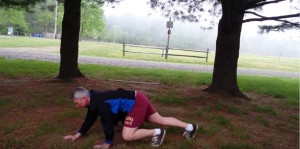 I don't advocate or practice exercises merely because they look cool and daring or string mindless movements together like some hysterical action junkie. There's plenty of folks out there riding that wave to nowhere if that's what you dig.
I practice exercises and training methodologies that flat out work to get you sustainable fitness results. Period.
At some point in a training session, I can almost always be found doing some work on the ground whether it's in my warmup, the workout itself or both.
The act of training by getting up and down from the ground while purposefully moving around down there promotes a profound metabolic effect you just don't get from unnaturally bonding with those over engineered machines at the gym.
As super knowledgeable, internationally renowned  fitness coach Steve Maxwell states "What separates the old from the young is the ability to comfortably move around on the ground." I will also add to that the ability to seamlessly get up and down from the ground also.
Take a look at the bear crawl for a supreme training experience:
Why Do Bear Crawls?
Huge fitness dividends for a minimum time investment
Simple to learn, yet very challenging
No equipment needed except your own body weight
It's a total body exercise
Builds strength and conditioning
Built in cardio effect
Promote a mobile, pain free active lifestyle
Great for joint mobility
Improves hip and shoulder stability
Great mind/body connection
Burns a lot of calories!
Attention Ladies: These are the types of exercises that will get you that tight and shapely booty you tell me you want!
Bear crawls help to reset motor patterns we have all unlearned over the years from sitting all day at work/home, driving long hours and leading inactive lifestyles.
Oh, and Bear crawls will help build a brutally powerful and capable core that everyone desires!
Tips And Technique
Keep your knees off the ground and move forward with your left hand/right foot then your right hand/left foot. This is cross patterning locomotion. We walk, run and march the same way – it's just more challenging when you get down on the ground and do it!
Beginners can move with their knees on the ground as a regression for this exercise. You will still be getting some quality exercise. Progress to getting your knees off the ground when you earn your way to this level.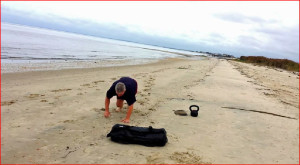 Move in small, deliberate increments – you don't need to take long strides and lunges.
Feel your body/mind connection as you move across the ground.
Keep your gaze forward and try not to round your back.
Try to keep your hips square
Don't hold your breath – try breathing in through the nose and out through the mouth.
Bear crawls are great to perform outdoors or indoors – My first choice is outdoors, but use whatever environment suits you.
Try doing the bear crawl backwards or sideways for an added challenge when you're ready.
Try doing them on shifting terrain like sand to challenge you further like at the beach or outdoor volleyball court.
Give bear crawls a try up and down a hill for a supreme challenge
Bear crawls are excellent stand-alone exercises, but try layering them in with other thoughtful exercises during your training session- your fitness results will accelerate to new levels guaranteed!
When you practice ground moves like the bear crawl, it's literally like a lube job for your entire body – freeing up stiff joints and reclaiming the mobility of your youth.
If bear crawls are not on your training dance card – put them in now – your body will thank you for it.
Life really is a move it or lose it proposition, folks! What side are you on?
Stay Well! Take Action! Be Consistent! Train and Eat Smart! Get Rid of the Drains and Pains in Your Life! Value your loved ones and friends and get out and have some active, safe fun!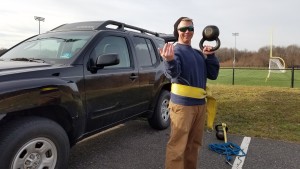 Mark Mellohusky (Mellow Husky) mellow as in laid back and husky like the dog
"There's a Sparkle in my Eyes and Iron in my Thighs!"
Seven Stars Fitness