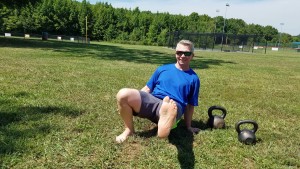 Try doing some sit throughs as this total body exercise will burn serious calories, power up your core and build dynamic strength while including a highly beneficial rotational dimension to your workout.
Sit throughs are a superb total body exercise utilizing one of the best fitness tools ever designed in the known universe – your own beautiful body! So if you are capable of supporting your own body weight pain-free with good form, you can always perform this powerful body weight exercise wherever you roam as you don't need much space.
Or combine this productive exercise with other complementary exercises in your training like me to really zoom your fitness results to new levels.
Check out my demonstration of the sit through exercise below I did to break up the boredom of a slow fishing trip on the beach:
Tips And Technique
Do a brief mobility warmup before performing the sit through exercise as you will be dynamically supporting your entire body weight with this challenging movement so physically ramp your body up to cope with the demands of this exercise.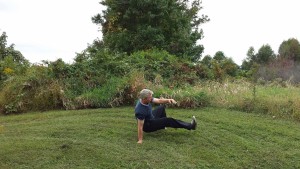 Start out with sets of 3-5 repetitions per side and work your way to more as long as you maintain good form. Remember – quality always trumps quantity when performing reps of any exercise!
Try to keep your heel planted on the ground
Don't let your butt touch the ground – it should hover above the ground throughout the exercise.
Your planted arm should be straight throughout the movement like an organic pillar – so avoid bending those elbows and collapsing into bad form.
For a powerful rooted arm, corkscrew your palm into the ground as if your palm and fingers are on top of a pickle jar and you are trying to tighten the lid. This effect will dial in the necessary shoulder stability for protection and productivity.
Keep breathing – don't hold your breath at any point.
Try not to go all "loosy goosy" when doing this exercise. Consciously activate your core musculature maintaining tension as you perform this exercise for maximum fitness benefit and safety. Brace your abs as if anticipating someone were about to hit you in the stomach and pretend you are holding a dish sponge under each armpit throughout the movement. Those ques will really dial you in to what it feels like to activate your core so keep these in mind.
Always perform your repetitions at a controlled and measured pace finding your rhythm. Speed will come with practice and consistent technique, so don't rush your pace before you are ready or have "earned" it.
Kick off the shoes and train barefoot if the conditions are favorable or use minimum footwear such as Converse Chuck Taylors like me for maximum fitness benefit.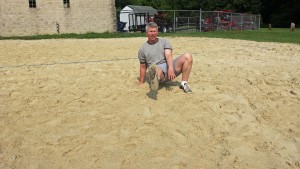 I am demonstrating a more difficult progression of the sit through exercise by performing it on an unstable, constantly shifting "live" terrain like sand which recruits more stabilizer muscles resulting in a greater metabolic effect. Start out on a stable surface and get your form and technique solid before earning your way to a more difficult progression like sand.
Sit Throughs Deserve A Spot In Your Training
So hit the ground and give this great body weight exercise a go as you will be rewarded with great fitness dividends!
I choose to perform these types of exercises as they allow me to stay strong and lean, move well and pain-free, keep fat off and live a high quality healthy life without boring the hell out of me or wasting my precious time.
I enjoy sharing my fitness training and health philosophies I practice that I have either adopted or tweaked from some of the fitness greats in history or designed myself. Most of my adult life has been spent testing out and experimenting countless fitness methodologies filtering out and keeping the most productive methods that pay the most fitness dividends for my precious time invested and dumping those methods with the least value.
I pride myself on being a product of my own advice and the methods I practice enable me to be a powerfully active (often barefoot) baby boomer who will not go quietly into the sunset since I have learned how to age gracefully by adopting sane eating strategies, staying strong and lean, moving well and pain-free and conquering nasty fat. All without spending hours haunting gyms doing hours of sappy media endorsed low value exercises and gulping down expensive and questionable supplements.
While I share A Lot of tips, techniques, and fitness philosophy on my site, it is unrealistic to try to adopt it all into your fitness plan as we all have different health and fitness gaps in our programs we need to address. So take what you need to succeed even if it's just one concept and fill your fitness gaps, dare to get out of your comfort zone and experience the thrill of doing what works and realizing your goals!
Stay Well! Take Action! Be Consistent! Become Capable! Train and Eat Smart! Get Rid of the Drains and Pains in Your Life! Value your loved ones and friends and get out and have some active, safe fun!
Your active pal in fitness and vitality,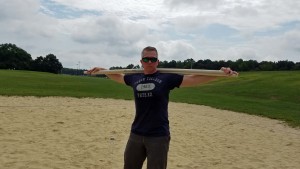 Mark Mellohusky (Mellow Husky) mellow as in laid back and husky like the dog
"There's a Sparkle in my Eyes and Iron in my Thighs!"
Seven Stars Fitness