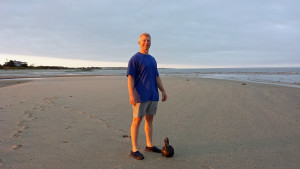 Give this total body kettlebell workout a try if you don't like wasting your precious time and want fantastic fitness results. You can do this iron crusher workout indoors or outdoors, but I like getting outdoors with my favorite training partner, Mother Nature as you will get a superior physical and mental training experience.
This is another one of those workouts that is simple to learn, yet deceptively powerful in how challenging and productive it can be. It looks easy to the casual observer, but is a real total body blitzer when you actually perform it! The low, purposeful repetitions allow for the exercise rounds and work capacity to really accumulate and work their metabolic magic while keeping you fresh, strong, productive and progressing.
For starters, your body will be subjected to plenty of "time under tension" in a training round. This simply means you will be holding on to your kettlebell for a challenging amount of time throughout the entire exercise round before putting it down. You will also be calling into play literally every muscle in your body since you will be performing a variety of functional movements before setting the weight down.
Training in this fashion is such a fitness game changer and so effective because the more muscles you recruit when performing an exercise the more of a profound metabolic effect you will create. Go one step further( like in this type of workout) and program a scenario where you have the muscles exposed to a challenging amount of dynamic time under tension and your training effect and therefore your results will be further maximized. Now that's a pretty righteous metabolic deal for a small investment of your time, friends!
Here's The Workout:
Do two crush grip kettlebell squats
Immediately walk to your fixed distance
Do two more crush grip kettlebell squats
Walk back to your starting position and safely release kettlebell
The above training sequence is considered a round
Here's a demo video to tie it all together:
TIPS AND TECHNIQUES:
Do a brief and meaningful total body warmup before performing this kettlebell workout.
Always police your training zone and clear the area of any obstructions. Be aware of terrain hazards and any unsavory characters that may be lurking about in the training area.
Set the clock for 10 minutes and see how many quality rounds you can complete with good form and posture.
Kick off the shoes and train barefoot if the conditions are favorable or use minimum footwear such as Converse Chuck Taylors like me for maximum fitness benefit. Learn the fantastic benefits of training barefoot.
Choose a challenging weight as you will be doing low repetitions and multiple rounds. Gals try a 10kg kettlebell and guys try a 16kg kettlebell for a minimum starting weight, but those are just general recommendations. Scale up or down a weight depending on your fitness level. You want to use a weight that would be challenging for you to do for 8 repetitions to further give you perspective to what would be considered challenging.
Rest as much as you need after a round, but keep it challenging. Make sure you get enough rest between rounds to maintain good form on the next round. Try a 1 minute rest and adjust up or down from there depending on your level of fitness. Never push yourself to the point where you are so exhausted your form and technique go to crap inviting injury. Err on the side of backing off the accelerator preserving your technique instead of forcing your body in the red line zone.
Try walking a distance of 25 steps to start out and see how you feel. Scale your distance up or down depending on your fitness level from there.
This isn't called the Iron Crusher workout for nothing. Keep a crushing effect on that kettlebell like it's a big old iron grape throughout the entire workout round from the time you pick it up to when you safely put it down. The metabolic effect will be maximized accelerating your fitness results to high levels.
As you crush the kettlebell, keep your elbows in tight to your body and not flared out like a chicken wing when doing your squats and walks.
Maintain an upright posture when you do your kettlebell crush carry- keeping your shoulders down and back. Try not to crane your neck outward, but keep a neutral, engaged gaze forward.
Try not to fold forward when doing your squats- just sink between your hips and get your elbows between your thighs if you can – keeping a straight spine. Only descend in the squat to the point you either catch yourself rounding your back or folding forward and come back up. Your depth will improve with practice, but don't go deep using bad form.
Try not to go all "loosy goosy" when doing this exercise. Consciously activate your core musculature as you perform this exercise for maximum fitness benefit and safety. Brace your abs as if someone were about to hit you in the stomach and pretend you are holding a dish sponge under each armpit. Those ques will really dial you in to what it feels like to activate your core so keep these in mind.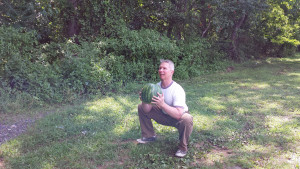 While I feel the kettlebell is the ideal fitness tool for this total body workout, I have used a dumbbell, a big rock and medicine ball to do this workout. I have even used various sized watermelons to do this iron crusher workout on my less intense training days, yet still experienced a great workout. Not only did I get a solid workout with the watermelon, but it's the only fitness implement I also ate afterwards for my recovery meal!  Experiment and see what works for you with what you have available.
Try experimenting performing these types of workouts in various terrains to tweak the metabolic effect. For example, by training in an unstable environment like sand, my body is forced to constantly compensate in this "live" terrain by heavily recruiting and taxing my stabilizer muscles for a supreme metabolic effect. I will alternate between dry, looser sand and wet sand for different, yet challenging effects. Besides, there is just something about training barefoot in the sand that not only really gives you a challenge, but charges up your motivation, body and mind! Oh, and it just feels good and is fun!
As you get better with this workout, try increasing the training duration to 15 minutes. Or you can change one of your training variables such as increasing the kettlebell size, adding repetitions to the squat, increase your walking distance or decrease your rest period between rounds. But change only one of these variables at a time or you will risk over taxing your body if you blitz it with too much overwhelming intensity. You want to challenge your central nervous system, not nuke it into submission and failure! Small adaptions in these types of workouts will give you fantastic and sustainable results keeping you in the active lifestyle game and not on the sidelines where a lot of overzealous, yet well meaning trainees find themselves.
Carry Your Way To Some Great Fitness
If your fitness goals include getting beach body ready or getting a bikini or bathing suit body regardless if you hit the beach, then these types of workouts should be high on your fitness and health list to get in shape fast!
Give the Iron Crusher kettlebell squat total body workout a prime spot in your fitness training if you want to crush mega calories, build strength, get lean and tight, promote great posture and send the fat fleeing from your body!
So give this workout a shot in your training session as it will most definitely "carry" you to your worthy fitness goals!
While I share A Lot of tips, techniques, and fitness philosophy on my site, it is unrealistic to try to adopt it all into your fitness plan as we all have different health and fitness gaps in our programs we need to address. So take what you need to succeed even if it's just one concept and fill your fitness gaps, dare to get out of your comfort zone and experience the thrill of doing what works and realizing your goals!
Stay Well! Take Action! Be Consistent! Train and Eat Smart! Get Rid of the Drains and Pains in Your Life! Value your loved ones and friends and get out and have some active, safe fun!
Mark Mellohusky (Mellow Husky) mellow as in laid back and husky like the dog
"There's a Sparkle in my Eyes and Iron in my Thighs!"
Seven Stars Fitness