Interested in a total body workout that is simple to perform and delivers super fitness results in minimum time? Well then, has uncle Mel got a workout for you to try! I am a big fan of getting off the concrete and out of the gym or office to pursue, explore, recognize and test out productive training opportunities in the great outdoors.
So, when Mother Nature presents a great fitness opportunity, I take full advantage of what she offers like I do in this workout video by combining two legendary exercises that are at the top of the fitness food chain when it comes to producing supreme results – the pushup and sprint. Oh, but I don't stop there – I perform this workout using a gully (a terrain indentation formation) to really ramp up the intensity and fun factor creating pure fitness nirvana.

When it comes to exercise, I am a huge advocate of doing things that are simple, productive and challenging – preferably outdoors, conditions permitting. While I enjoy using quality, proven fitness tools like Sandbags and Kettlebells which are excellent for accelerating you to your fitness goals – I don't overlook the best organic fitness tool ever created in the universe – your own body. Body weight exercises like the pushup and sprint will get you in awesome shape if you program them into your training in a safe and sustainable manner.
It seems the fitness industry puts more credence into pushing and hyping unproven exercise gimmicks and gadgetry backed by advocating ingesting all kinds of unsubstantiated pills, crazy diets, powders and potions these days. I see limited efforts in teaching the public about meaningful exercise paired with solid program design. This is where the gold is found, but most don't want to mine it in lieu of making a quick, disingenuous buck peddling false fitness hope big on emotional hype, yet low on substance.
Here's the outdoor gully Pushup and Sprint workout video and description:
Do 5 strict pushups at the top of the gully(hill)
Immediately launch yourself up from the ground and get ready to sprint
Sprint from the top of the gully down the bottom and up the other side.
Walk back to your starting position as this will be your active recovery
Performing the above will be considered a round
Set the clock for 10 minutes and see how many quality rounds you can do
Why Is This Workout So Great And What Are The Benefits?
Well, for starters, you are getting your butt outdoors which puts you in the natural setting our bodies were designed as a species to move around and physically operate.
A bonus subtlety as to how I programmed this workout is that you are called upon to get your body down and up from the ground between doing your pushups and sprints. Anytime your body has to get itself down to the ground and back up again, you promote a greater metabolic effect which translates into burning more calories with a minimum investment of your precious time. I like to layer productive movement concepts like this into a training session so as to get the most fitness benefit in the least amount of time. I don't know about you, but I have better things to do than work out all day or haunt gyms constantly. In other words, if you program your workouts productively, you really don't have to train like an obsessed maniac all week to get superior fitness results.
Getting down and up from the ground also will help grease any rusty movement patterns you may be saddled with. There is a method to my training programming, friends as I don't follow the ineffectual hype of the fitness industry herd that string haphazard exercises together, showboat in front of their mirrors endlessly, indulge in fitness stunts, gulp harmful supplements and practice exercise buffoonery.
Your body will be called upon to move over varied, natural terrain in subtle, profound and challenging planes of movement and intensity which can't help but accelerate your fitness progress and body composition goals. I designed this workout to not only build strength, endurance and conditioning, but to also chew up a maximum amount of calories. Just make sure you practice eating a sane diet the majority of the time along with productive exercise training(like the workouts I share with you) and you will love the figure that stares back at you in the mirror in no time!
Getting outdoors and moving around is a proven mood enhancer and natural stress therapy. I or those I have trained with in one of my outdoor workouts have never ended a session without being in a mentally great mood as well as feeling physically satisfied. You get into a physical and mental zone where you feel incredibly capable, confident and in control – ready to positively tackle anything life throws at you. As an added biological bonus, you are sucking in quality, unfiltered fresh air and inviting some vitamin D into your body via sunlight absorption if the conditions permit and enough skin is exposed. That's not a bad deal and as far as I know doesn't cost anything.
Tips And Guidelines:
Perform a meaningful warmup and a few light jogging rounds before ramping into this intense workout
Police your sprinting area of obstructions and be aware of terrain hazards like sticks, roots, holes and protruding rocks.
Rest as much as you need between rounds depending on your fitness level, but don't lollygag too long as you want to keep things challenging. Just make sure you are not so fatigued that your form and technique suffer before tackling the next round.
You don't need to turn the afterburners on and sprint at an all out intensity. Try sprinting at 60% to 70% of your max intensity to keep the workout productively sustainable. Trust me – You will still experience an awesome workout and get super results without having to push your accelerator into the red zone haphazardly over extending yourself.
As you get better with this workout, you can increase the time to 15 minutes or experiment with the amount of pushup reps or sprint intensity effort. But only change one of these variables at a time so as not to overdo things and end up over training yourself.
If you have issues sprinting, a low impact jog or even a brisk walk will allow you to safely participate while still getting in a productive and functional workout.
Final Thoughts To Sprint On Out With
So go on out and hit the trails and be on the lookout for what my favorite training partner, Mother Nature presents to you. Remember, we were designed as a species to move on natural earthly terrain and not train like hamsters on over engineered/movement compromising machines in big box techno gyms. I threw some fitness gold in your laps with this workout, friends – Now all you need to do is devote the small time investment to give it a shot and enjoy the results that will surely follow.
If you value getting lean, strong, tight in all the right places and mobile then explore my site for more articles designed to get you super capable while forging your ideal body built for go and show!
Stay well! Take Action! Be Consistent! Train and Eat Smart! Get Rid of the Drains and Pains in Your Life! Value your loved ones and friends and get out and have some active, safe fun.
Your pal in fitness always exploring those golden trails,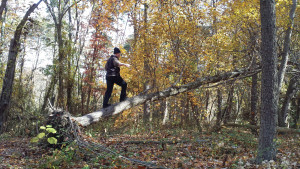 Mark Mellohusky (Mellow Husky) Mellow as in laid back and Husky like the dog.
I Eat T-Bone Steaks, I Sprint and know when to hit the brakes!
Seven Stars Fitness