This is a tribute to one of the most unique, powerful, kind, decent and charismatic human beings I have had the honor of knowing.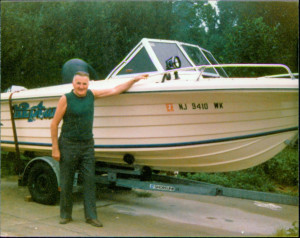 I felt incredibly compelled to tell the story of a man who was a true hero to his family and country who consistently put forth an example of the kind of bravery, drive to overcome adversity and determination this country would do well to embody, hold in high regard and celebrate.
While I have no direct fitness tips or specific workouts for you in this post, you may indirectly acquire some timeless health and fitness takeaways as you learn about the mighty Uncle Elmer and some of his life highlights that I will never forget and always cherish. I found myself proudly beaming like an awe struck little kid again as I wrote these recollections of Uncle Elmer even after all these years.
Role Models And Heroes Aint What They Used To Be
I'm tired of the media and all the clueless, do-nothing dopes celebrating and touting the lives and "achievements" of people who contribute nothing to a cohesive, productive and able society. These include the many attention starved entertainment deviants, musical tarts of the week,  sports stars, reprehensible political hacks,  criminals, reality tv stars, addicts and traitors to this country's ideals that every media outpost seems on a concerted mission to shove down our throats daring us to challenge this "new norm" that seems to be overwriting common sense and good judgement.
Oh and I haven't forgotten about all the thin skinned rabble who feign offense over every "perceived" injustice. These types of out of touch dolts exist to attack instinctual wisdom and timeless common sense- desperate to peddle a flawed politically correct agenda that will over legislate America to a lowly third world nanny nation where self reliance and sufficiency is looked down upon. My social sermon wouldn't be complete without a special mention to every out of touch Hollywood phony who expects everyone to live in and bow to their fantasy world – minus the decadent perks, of course! Why are all of these types being trotted out to the public desperately trying to convince us that these people are brave, courageous or label them as "heroes" these days? It sickens me when I see the one-two punch of the media juggernaut desperately trying to fabricate and position ridiculous people with their fantasy situations and manufactured drama as brave heroes and role models.
These efforts seem to be backed by the disturbing, ever growing segment of the low-information, dumbed down public who thoughtlessly go along for the ride and perpetuate this alarming trend. I guess this is what happens when you have to provide content for thousands of cable channels, internet sites, video platforms, news media and social media sites – a lot of choreographed bullshit must be fed to the masses under the guise of meaningful, truthful content.
There are many legitimate heroes and role models out there, but you rarely see their stories register a blip on the media radar screen. I wonder why that is? I guess the public just wants to be fed shit sandwiches that the media titans convince them is grass fed prime beef.
Please read no further if you are part of the pack who entertains and eats that useless nonsense up as I will be relaying a tale of an incredibly unique man of action who left this world a far better place then he found it which may not fit into the current pathetic media narrative of what embodies bravery and heroism.
Who Was Uncle Elmer?
Elmer was actually my dad's uncle which made him my great uncle. Elmer was also my Godfather. He was born in 1913 in a small Pennsylvania coal mining town where life was pretty rough with very little opportunities. He had to work as a kid most days just to help support his family consisting of brutal physical work and long hours centered around the coal mining industry. He never learned to read or write as it was common to forsake schooling for the survival of the family back then so Uncle Elmer never had any semblance of a formal education.
Elmer married my Aunt Vicki and they eventually moved to northern New Jersey outside the New York City metropolitan area where he took a job with an elevator construction and installation company until he retired.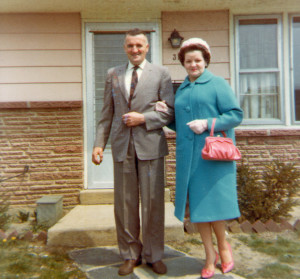 Elmer treated Vicki like a queen. He always pulled out her chair for her and actually carried a whisk brush to remove any dust or debris  from the chair sometimes whether indoors or outside almost like an umpire dusting off home plate. He was like Sir Galahad with her – always respectfully attending to her but never smothering her. She was his world and he wasn't shy about letting everyone know this.
Uncle Elmer had three great strengths. Strength of body, strength of will and strength of character. Also add to that a man who was incredibly decisive, loyal, fair, even-keeled, humble, supremely aware of his surroundings, able to deal with all kinds of people and he was a charismatic leader.
Everyone felt safe, comfortable and in good spirits around Elmer. His presence made everything seem solid and stable when he came to town.
My first recollections of Uncle Elmer were when I was about 5 or 6. Elmer was already in his late 50's by this time, but he was like an incredible force of nature who was always upbeat, always had time for us kids and rarely had anything bad to say about anything or anybody.
Elmer was a man of action and never threw a pity party for himself when life threw a curve ball at him. He experienced enough adversity in his life that would send most "modern" men into therapy 24/7. Yet he managed to create a great life, inspired almost everyone who spent time with him, served his country admirably in one of the most world shaping wars in history and developed a charisma and positive mental outlook that today's motivational speakers would stumble over each other in the race to put him on a pedestal in their organizations.
Elmer would laugh at what men consider "hardships" today and all the petty, irrelevant nonsense and drama they choose to willingly entertain in their lives. Yes, Uncle Elmer was a physical powerhouse and would no doubt be in some record book for any number of feats he performed throughout his life if he were interested in such things, but he was so much more. I miss him. I will always love him and what he stands for. I will never forget him. I will always make sure his life is remembered and celebrated for the next generation.
When I was very young and didn't have perspective, I thought everybody's Uncles could do the incredible things Elmer could do and had such great stories spoken about them. As I got older, I truly realized how unique and special he was.
Elmer Was Scary Strong
While Elmer was a solid and capable physical specimen, he didn't have the overblown physique of a modern day gymnasium steroid infused juice giant or supplement junkie with their puffy and bloated all show and no go muscle performance. In his prime, Uncle Elmer had the powerfully lean physique of a cross between an Olympic gymnast and Tarzan that was forged by a lifetime of hard work, action and eating nutritious whole foods.
Elmer's brute strength and legendary capacity for work was phenomenal. What really made people stand back in awe was his incredible grip and tendon strength. When Elmer clamped his hand on you, it was like that of the crushing power of a great white shark, grizzly bear or industrial vice.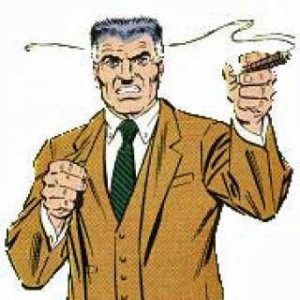 We kids were always super excited and ramped up when Uncle Elmer came to visit as he was like a real life super hero to us. He was like a cross between Popeye the sailor and a circus strongman. He even looked a little like Popeye or the bombastic J. Jonah Jameson from the Spider man comics especially when Elmer would be holding court and chomping on one of his beloved cigars. Elmer would even talk in that same booming twang dialect like Popeye that captivated you and kept your attention.
My dad had these huge custom made steel containers with handles welded on the top that could hold a keg of beer with plenty of room for at least a hundred pounds of ice to layer in that was a staple for all his backyard parties. I vividly remember times that steel container had a full keg, tons of ice, sodas, and even whole watermelons layered in there. Sometimes this container needed to be moved to a different part of the yard. Uncle Elmer would pick up this incredibly heavy and awkward weight with what seemed like the effort most men would hoist up a bag of charcoal and move it wherever needed.
I knew this had to be super heavy because it took two of my other great uncles, Uncle Spider and Uncle Slicker, who were true, legit powerhouses in their own right- to move this container with great effort. And believe me Uncle Spider and Uncle Slicker were as strong, tough and rugged as they come- working in the coastal dredging industry all their lives. I'm sure they didn't earn their colorful nicknames by being wallflowers or living life meekly. I want to point out that these great uncles of mine never "worked out" in the traditional sense by today's definition of going to the regional mega techno gym training on resistance machines or slogging away on stair steppers or treadmills.
Yet, these guys were super strong and relatively mobile well into their 60's and 70's. Their "gym" experience was performing heavy, real world work on the dredge and at the elevator company they respectively worked for. Uncle Spider could lift a man off the ground by their shirt with one hand and he used to say with begrudging respect that you do not want to get on the wrong side of Elmer and you especially do not want him putting his hands on you or you were finished. Spider could intimidate grown men with a stare and roamed many rough areas of New Jersey like a kingpin, so you took notice when he pointed out someone else's toughness.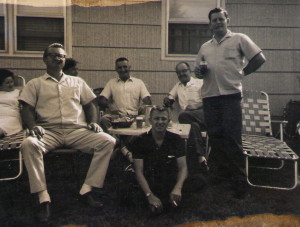 During those backyard family get togethers, I would hand Uncle Elmer horseshoes to bend and I even raided the garage to have him bend giant nails and even a few wrenches which my dad wasn't too thrilled about, but never said anything while Elmer entertained us little termites. My mom wasn't too thrilled either when I would hand Uncle Elmer her big department store catalogs or phone book which he would rip in half. I do remember seeing Elmer handing my dad spare tools he pulled out of his trunk to replace the ones he destroyed and offering money to replace anything else his hands demolished as well.
I remember my dad adamantly telling Elmer that his money was no good here and he could rip apart the entire back yard and garage if he wanted to and he would be fine with it. My dad said that he would never be able to repay everything Uncle Elmer and his wife, Vicki did for him and his siblings growing up. Apparently, there were some really rough economic times when my dad was little and Elmer and Vicki took in and raised my dad and some of his siblings for a time. These were the only details we were privy to as these stories were rarely referenced, but it sounded like some serious rough times that Elmer and Vicki got them through. My dad never looked for anybody's approval to do anything in his life and that included his parents, but Elmer was the only person he felt compelled to seek approval from and treat with unconditional respect and reverence, so this spoke volumes of Uncle Elmer's strength of character and ability to connect with people.
I remember when I first started lifting weights in my garage with those cement-filled plastic coated barbell plates you got at Sears. I thought I was pretty strong back then even though I really had no clue as to what true strength was since I was a novice training half assed.  One time when Elmer was visiting, my dad needed something from the garage and my weights were blocking the path to something he needed for one of his backyard family shindigs. As my dad was yelling at me to clear my weights out while taking the gleeful opportunity to loudly publicly lecture me as to how I turned the garage into an unusable shithouse, Elmer silently strolled over to the two loaded barbells that were the cause of all my dad's colorful outbursts. Elmer got between the two barbells, stooped down and picked them both up, one in each hand, like an average person would pick up their gym bag. One barbell was 150 pounds the other a little north of 200 pounds. Elmer looked at my now quiet dad and said "where do you want them, Bobby?" My dad pointed to somewhere outside the garage and Elmer walked them over and plopped them down.
Two things always amazed me about that strength demonstration. One was not only the brute strength needed to hoist these barbells off the ground, but the incredible grip and tendon strength needed to maintain horizontal balance of the bars without any tilt which would cause the plates to fall off one side. And second, Uncle Elmer was 67 when he performed this incredible display of strength!
I don't know exactly how Elmer got so strong, but I remember once he told us of the kind of work he had to do as a kid and teen. While raised in the harsh coal region of Shamokin, Pennsylvania to help support his family, Elmer would have to often carry sacks of coal from place to place when there were no wagons or carts available. He didn't know how much any of these coal sacks weighed exactly, but he estimated they weighed anywhere from 50-200 pounds depending on how big the sack was and how much they were filled.
Elmer once said that he would have to carry coal home at the end of an already physically grueling day so his family had heat. He would have co-workers put a coal sack on each of his shoulders and then walk home. He said he didn't want to make two trips and that he didn't live far – about 4 football fields distance away. That's a brutal way to build a foundation of strength and if there were any enforceable child labor laws back then this situation wouldn't have transpired. But that's how things were in the country back then. Looking back, I'm sure all this physical, heavy work combined with a healthy appetite created an incredible foundation of strength for a young Uncle Elmer.
While I witnessed how incredibly powerful Elmer was from his late 50's all the way into his 70's, the one theme I heard from people who knew him a long time was "you should have seen how strong he was in his prime" which put things into awesome perspective. Or as one of his old time army comrades would occasionally say "if Elmer got his hands on you or hit you with his pile driver fist, it was over-he can punch holes in you or literally pull you apart."
The Incredible Core Strength Of Elmer
Elmer's core strength was off the charts. Looking back at all of Uncle Elmer's super human physical strength and capacity for sustainable heavy work through the lens of someone who has been involved in physical culture since Jimmy Carter was president, I am convinced his power was generated via one of the most highly developed core musculature systems I have ever witnessed in action. It was uncanny as it seemed like he could instantly tap into and productively recruit every muscle to perform any incredible physical task he focused on leaving witnesses astonished or unlucky opponents devastated.
Elmer could channel this ability like flipping a light switch and seemingly lift or tear through anything he set his sights on. The core musculature Uncle Elmer possessed whether inherently created through blessed genetics or developed through a life of hard work or probably a combo of both was like an inner armor of flexible steel seemingly powered by a dynamo. This was way before the term "core strength" came into vogue in the fitness community since it is a relatively modern descriptive term of productive functional strength now used in the vocabulary of every fitness buff.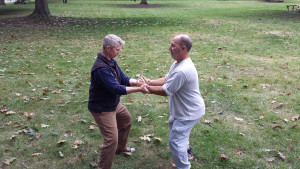 Elmer was famous for an incredible demonstration of total body strength that I have never seen duplicated to this day. I have tested every "strong" person I have encountered over the years and nobody has passed the test. I don't know where Uncle Elmer came up with this strength test, but what he would do is extend his hands out in front of his body about waist high and have another person stand in front of him. He would say "grasp my wrists and try to move my arms a few inches to the left or right." Elmer would take a stance and totally resist your efforts to budge him to the left or right. I have seen a few people move his body an inch with a supreme effort, but most of the time he never moved at all. I remember some of my older brother's college friends tire themselves out trying to budge Elmer and some of these guys were college football offensive and defensive linemen.
It wasn't just a "one and done" demonstration either. There would be a line of guys ranging from little kids, neighbors trying to impress their wives and the stronger friends from high school and college that my brother, sister, and I had over for these backyard parties. My other powerhouse uncles like Spider and Slicker  wouldn't even bother to attempt to take a stab at trying to move Elmer anymore as their egos and bravado took a hit at every failed attempt. Between participants, Elmer would take a big swig of Schmidts beer out of his monster steel mug, hold his hands out, root himself into the ground like the roots of an oak tree and stare at you like a focused king cobra thwarting the next challenger. The core strength and mental focus it must have took to consistently do this was simply extraordinary.
I wish I had a photo of Elmer doing this strength demonstration, but check out a photo in this section to give you an idea of what this looked like. Give this a try and see if you can match Uncle Elmer's power. I have instructed some extremely strong men to partake in this strength demonstration throughout the years and you can move them with relative ease to the left or right. Most of these strong guys dismissed it as a parlor trick claiming nobody could do this in order to protect their bruised egos justifying their alpha male status under the bench press.  But give it a go and see for yourself! I doubt there are very many people on this planet who can duplicate this strength feat outside of some naturally strong rare genetic freaks or possibly some supreme martial arts master.
Oh, and Elmer was in his late 60's by this time and doing this with one bad leg that was shot to hell by the Nazis in world War Two which made this even more impressive. Looking back, I can only imagine how much stronger Elmer was before he got his leg shot up pretty bad. I only saw his leg once or twice and it looked pretty scarred up and grisly. Elmer usually wore long pants even in the summer so as not to display the wound. Aunt Vicki said he wasn't embarrassed about how his leg looked, but he just didn't like the fuss and attention it drew to himself if he wore shorts in public as he would have to explain how he got wounded constantly. I don't know how he channeled power through that bum leg or how much pain he lived with, but he didn't let it slow him down or let others know it was a detriment to his living a robust quality of life.
Elmer Conquered Overwhelming Adversity
One of the most amazing things about Uncle Elmer was the fact that he could not read and was barely able to write. I never realized this until I was in my teens as this fact probably was embarrassing to Elmer and the fact that my family rarely disclosed details about anything it seemed. I look back at how difficult it must have been for Elmer to function in life without these skills we all take for granted in our everyday activities, yet he did. Even though Elmer couldn't read or write, he possessed a tremendous amount of common sense and the ability to connect with people in an intelligent manner.
He knew how to drive and navigate on long road trips(I have no idea how he got a driver's license, but he got one), hold down a good job and constantly excel there, married a great wife, buy things at stores, count money and sign and somehow understand important documents. The intelligence needed to keep his illiteracy/educational shortcomings a secret for so long and live a productive and successful life continues to boggle my mind. Even with his life disadvantages, Elmer carved out a great life for himself through sheer persistence, hard work, common sense and being incredibly charismatic.
Uncle Elmer's WWII Service
On some rare occasions, a few of Uncle Elmer's Army war buddies would be at our house for my dad's legendary backyard parties and I was lucky enough to hear them talk about Elmer's World War Two service. This was usually one of the only opportunities to learn about parts of Uncle Elmer's life and exploits since he either was uncomfortable with or just flat out didn't like talking about himself or his life in any great detail. Besides, it seems more credible when other people speak about your actions and accomplishments to a large degree.
I learned that Elmer and his buddies served in the European theater during World War Two and were involved with the liberation of France from the Nazi war machine.
At this point in his life Elmer was at the pinnacle of his physical prime that I'm convinced not too many people on the planet could have achieved. His war buddies always repeated a common theme about Uncle Elmer – They would say that everyone in their unit rallied around him not only for his beastly physical strength, but for his loyalty, durability and his incredible will to succeed and ability to accomplish any task undertaken. They would go on to say that even though they were dropped in some of the most hellish, difficult and demanding environments and scenarios that no man should live to experience, having Elmer around made everybody feel that things were going to be OK and gave people the optimism to push on. These war buddies of Uncle Elmer struck me as pretty strong and capable men, so for them to shower him with praise made me really take notice.
Elmer's Army comrades would proudly marvel at how inhumanly strong Uncle Elmer was comparing his stamina and constitution to that of a bull Rhino. Elmer never complained, bitched or moaned about how tough those situations got. He watched out for his fellow soldiers willing to come to their aid ranging from carrying countless wounded to safety to giving the enemy hell. His buddies would proudly joke that their commanding officer would routinely say that if every unit had a few "Elmers" in it the war would end a lot quicker.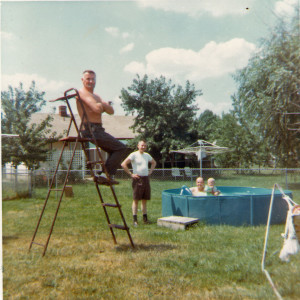 As powerful and determined as Elmer was, however, he was no match for a Nazi machine gun nest. Elmer got his leg shot up pretty bad while engaging a nest of Nazis. His buddies got him to safety and some medical care, but they had to ship him to an aid station to tend to his leg or he would lose it or his life. They stitched and patched up Elmers leg at the medical aid station, but he "escaped" after several days and somehow found his way back to his unit. He did this because he said "My friends needed me and I couldn't lie around doing nothing." Elmer's unit couldn't believe it when they saw him come into their encampment. His buddies said everyone was furious at him yet excited to see him at the same time. They were mad because he was obviously not healed and risking greater harm to himself, but their spirits were raised and touched because they all understood they all meant a lot to Elmer for him to painstakingly make his way back to them. His buddies stated "You don't ever forget things like that."
They all knew Elmer needed to get back to the hospital to heal properly and they barely convinced him to get on a transport back there. They said it would have been easier trying to get a bull onto a jeep as Elmer felt he was letting everybody down. While his Army buddies pointed out Elmer's actions were probably not steeped in good judgement, they also pointed out that this selfless act gave everyone such a mental boost that it refocused and inspired everyone.
Once again I was amazed at the fact that Elmer's illiteracy never seemed to pose an insurmountable problem with him serving in the military and making a meaningful contribution. Only one time did one of his Army friends reference it. He said they knew he couldn't read or write that good, but if you showed Elmer something once, he had the kind of memory that never forgot anything and he  just knew how to naturally deal and relate to people. He also went on to say that Uncle Elmer saved the asses of many overthinking and indecisive "eggheads" who would then go out of their way to respectfully help Elmer with any reading issues he needed help with.
Elmer's friends would mention all kinds of medals and citations he was awarded, but I never heard him mention any of these honors himself or see them displayed anywhere. Aunt Vicki once said that Elmer kept his military service medals in a cigar box, but never bothered with them. She said on the rare occasions Elmer even talked about his World War Two service, it was about all the brave comrades he had lost and how proud he was to serve this great country to "do his part."
Uncle Elmer VS. The French
There was only one subject regarding his World War Two experience that could really get Elmer fired up and animated and that was his impression of the French. It was somewhat odd as he never really spoke about the atrocities of the enemies fought during the war, but seemed more upset about the perceived ungratefulness of the French people. Elmer said he lost a lot of brave friends successfully liberating those "thankless bastards" (Elmer's exact words) from the Nazis. He said those people could yap a lot and look down their noses at you, but rolled over like dogs when it was time to fight. This was so out of character to hear Elmer bad mouth anybody, so I figured he must have had good reason to go off on a French tirade periodically as he was a pretty even handed person who was always positive and got along with most everybody.
I found out one reason Uncle Elmer was so down on the French and had such negative thoughts toward them when one of his World War Two comrades told a very interesting story. Elmer and his unit had slugged their way through Nazi occupied France when they arrived at a town and made their way to a makeshift French tavern to hopefully get a drink and some rest. There were some locals in this tavern drinking some beer and carrying on. Elmer and some of his buddies sat at a table and ordered a round of beers. When the beer arrived, one of the soldiers took a drink and spit it back out in disgust stating that it tasted like piss and was extremely warm and rancid. All the soldiers agreed it was horrible after taking a small sip of their own beers.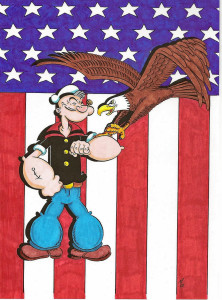 While the soldiers sat there disgusted and disappointed, Elmer purposefully strode over to the table where the French locals were drinking and having fun and asked to sample the beer they were drinking to which they begrudgingly complied. Elmer thanked them and silently walked over to the barkeep as these locals spewed some belligerent comments to his back as he left. Elmer told the barkeep that his soldier buddies would like the same beer as the locals were drinking as he said it tasted much better and cooler than the beer he was served. The barkeep gave Elmer some attitude and was telling him how Americans think they are so wonderful and expect everybody to throw roses at their feet and other assorted venomous statements with the locals chiming in tossing assorted trash at him as well.
Elmer's Army buddy said that what happened next was what he described as Elmer's "Popeye" moment as he reached the point where he "took all he could stand and couldn't stand no more." All hell broke loose as Elmer proceeded to turn the place inside out overturning and throwing tables and whatever wasn't nailed down denting a few heads with his fists for good measure. He stormed out with his buddies, but not before growling at the battered locals something to the tune of "If you bastards gave the enemy as much shit as you gave my buddies, we "horrible" Americans wouldn't have to fight to save your sorry, ungrateful asses and country!" The telling of this story seemed to fire Elmer back up again as he became visibly agitated again even with the passage of many years.
Don't Mess With Elmer's Wife
I vividly remember the one and only time my Aunt Vicki told this amazing story I guess because it was a pretty upsetting and traumatic experience for her. I was totally mesmerized by this story and committed it to memory because it completely summed up what Uncle Elmer stood for and the quality of man he embodied.
Uncle Elmer and Aunt Vicki lived in a somewhat rough town in northern New Jersey outside of New York City. One day Elmer and Vicki were walking down one of the ailing business district streets while out for some shopping and a stroll when they passed by a gang of five guys. As Elmer and Vicki walked past these guys, one of the thugs suddenly leaped forward and tried to take Vicki's purse. Elmer immediately whirled around and grabbed the young thug's forearm that was trying to yank his wife's purse off her shoulder. Vicki said she heard a dull snapping sound which she thought was her purse strap breaking followed by a loud howling scream of agony. Aunt Vicki's purse strap was intact, but Elmer had literally snapped the attacker's forearm when he applied his vice-like grip as he yanked the young thug off of her.
The attacker fell to the street screaming in pain no longer an immediate threat, but Vicki had hit the ground roughly also due to the momentum  of the attack. The remaining thugs were visibly startled and hesitant presumably from the sight and sound of their fellow thug rolling and shrieking on the ground in agony. Even though Vicki knew how physically capable Elmer was, she feared for both their lives as the odds looked grim. As Elmer put himself between Aunt Vicki and the remaining gang members, he glanced at her and she said that he had a look in his eyes that nothing was going to stop him. "He was like a tank" she said. I remember Uncle Elmer taking a sip from his huge steel mug of Schmidt's beer at this point of the story and murmur "They hurt my Vicki."
The least startled of the young punks came forward toward them brandishing what Vicki thought was a knife – she wasn't exactly sure what, but it was some type of weapon. In a blur, Elmer bull rushed him head on with a straight arm to the neck smashing the thug into the side of a building. This attacker just slunk to the ground without a sound. The three remaining gangsters hesitated once again as if in disbelief. Aunt Vicki said the bravest of the remaining punks stepped toward them and was clearly waving a knife toward them. Unfortunately for the assailant, Elmer had already had his own knife out at this point which he always carried. The thug swiped at Elmer who dodged the attack and then slashed at the punk cutting him in the mid section. Elmer piped in at this point of the story and said "You cut one and the rest run like rats."
That was it. The remaining thugs all ran. Vicki said the whole frightening ordeal was over in seconds, but seemed to last longer than it did. As my Aunt Vicki relayed this story, Elmer sat relatively silent and uncomfortable for the duration. I was in complete awe of Elmer's exploits and asked him a ton more questions about how he handled himself and what happened next, etc. like any kid would. Uncle Elmer simply took another swig from his tankard of Schmidt's beer trembling a bit saying that he was afraid – he was afraid he was going to lose his beloved Vicki. "Nothing else mattered" he said. That floored me – I will never, ever forget what he said and that his biggest fear was losing the love of his life and not from any physical threat to himself.
I wouldn't say I have any sympathy for these five street punks, but they had no clue as to the determined force of nature they unleashed upon themselves that day. Not only did they threaten Aunt Vicki which was like trying to assault Lois Lane with Superman next to her, but Uncle Elmer was a living powerhouse who had just recently been overseas charging Nazi machine gun nests successfully eradicating the enemy against crazy odds and God awful conditions and situations. Granted those were different times and there were no guns involved in the attack like there probably would be if the same scenario were played out today. But this was still a pretty intense situation. If Elmer's actions had been captured on a smart phone video and posted to YouTube, it would never stop getting views.
Vicki said no police were ever called and some bystanders came over afterward to see if they could help, but Elmer didn't report the assault to authorities. While Aunt Vicki refused to walk down that street ever again, Elmer said he made it a point to regularly walk down that street. He took great civic pride in saying that if any of those hoods saw him walking down the street, they either ran down a side alley or crossed the street to give him a wide berth. He said a few even would call him "Sir" from a distance of course. The law abiding citizens and merchants of the street loved Elmer and his one-man neighborhood watch patrol!
Elmer Lived Big And Ate Big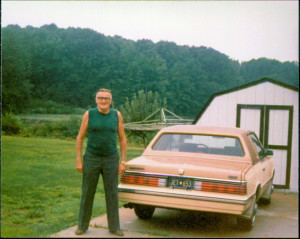 Uncle Elmer had an animated way about him with an aura of doing everything big and with gusto that was contagious and fun to be around. My mom loved it when Elmer came to visit because he ate everything she cooked – and a lot of it. He would always playfully and genuinely rave about whatever she served (even the tripe, liver and butter beans we kids hated) making her feel like the most important chef in the world. My mom also shrewdly knew that whatever Elmer woofed down and ate, we kids would also eat it leaving nothing on our plates as we all were enamored with him and tried to be like him. Elmer rarely ate anything sweet usually declining dessert in favor of extra helpings of whatever main course was served.
Normal table ware was not up to the task of keeping pace with Elmer's appetite. My mom would put Uncle Elmer's food portions in either a huge serving bowl or platter and he used a large serving spoon to eat with. He drank everything out of a huge steel tankard style mug that looked like something the mighty Thor would drink mead out of in the halls of Asgard or Hercules would use to toast the gods up on Mount Olympus. These eating implements would all be assigned to Elmer permanently and even be named after him. For example, my mom would bark at us to get out the "Elmer" bowl or put out the "Elmer" mug which we kids would fight over the privilege to undertake.
Are There Any More Elmer's Out There?
Aunt Vicki passed away before Uncle Elmer and he continued on until he passed in his early 80's. There are so many more cherished memories I have of Uncle Elmer and his special visits, but even a train must come to a stop at some point much like my many recollections of this incredible man. I have never seen anybody possess the level of kindness, integrity, charisma and power that Uncle Elmer embodied. My brother, sister and I still have friends who may have met Elmer only once at one of our dad's backyard shindigs from 40 years ago still excitedly relay their experiences with him and tell their own kids about some of his exploits. While Elmer liked to smoke his cigars and drink his beer, he still had a lot of great qualities that deserve to be emulated. It seems that whoever came into contact with Elmer, he left a lasting impression on you. I have learned more from life and what's important to be successful from Uncle Elmer than any college professor and teacher I have ever studied with or seminar attended.
Elmer never ran from the many adversities life threw at him – refusing to play the role of victim to rationalize self defeating behavior that seems to be the norm for most people faced with some type of adversity these days. Instead, Elmer demonstrated how you are capable of achieving so much with so little as long as you have the determination and character to push forward while lifting the spirits of others along the journey to a quality life.  I hope there are still some "Uncle Elmer's" out there to lead by example and replace what sappy, scripted heroes and role models most of the media outlets seem to want to champion these days.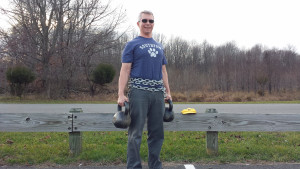 Mark Mellohusky (Mellow-Husky) Mellow as in laid back and Husky like the dog!
"There's a Sparkle in my Eyes and Iron in my Thighs!"
I Eat T-Bone Steaks And Train With Various Weights
Seven Stars Fitness