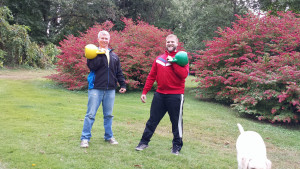 Carry those calories right off your body with this simple, brief, yet intensely productive kettlebell workout.
So be prepared to erase the fat, build some muscle, gain insane levels of conditioning, boost your metabolism and flat out feel awesome when you perform this kettlebell weighted carry up and down a challenging hill.
Weighted kettlebell carries like the easy to learn rack carry are great exercises by themselves and will produce solid fitness results, but when you combine them with a big old hill be prepared to take your fitness to incredible heights and reap the increased fitness benefits that will follow. A supreme benefit inherent to this exercise is that you will get an intense and extremely challenging workout without any pounding to your joints. Another benefit is that you can get a great workout in only approximately 10 minutes of your precious time invested. These weighted carry workouts are true total body transformers and fit perfectly into my philosophy of performing Maximum Exercise in Minimal Time producing Stellar Results especially if you are a busy individual or professional.
Weighted carries such as the kettlebell rack carry can be used as "finishers" to your workout program or strategically worked into your exercise routine, but I have come to value the entire weighted carry family of exercises I practice, teach and perform as highly productive and meaningful stand- alone total body workouts that have few peers if you seek to advance your fitness and achieve your ideal body composition.
Here's The Workout:
Rack the kettlebell on your left side and walk up the hill. Learn how to perform a basic kettlebell rack carry before you attempt it up and down a hill if you need a tutorial.
Put the kettlebell on the ground at the top of the hill briefly and re-rack it on your left side and come down the hill
Repeat  with the kettlebell racked on your right side
Performing the above sequence on both sides is considered a round.
Check out the video below that coach Moses Correa and I did to give you an idea of what this workout looks like:
Tips and Guidelines:
Do a mobility warmup before performing this workout or prior to ramping up to any intense activity you undertake
Stay aware of your surroundings at all times – don't trip over your equipment or step in any varmint holes or slide in goose poop! These damn, ornery Canadian geese seem to have taken a liking to my neck of the woods and have defected from their home country.
Use good form when performing these carries and especially don't get lazy with your technique when you are hoisting these kettlebells up and returning them to mother earth.
Start with moderate weights to get a feel for the movements and to get into the groove of performing these kettlebell carries.
Keep your abs braced and walk with a tall posture in short,quick steps
This will challenge your breathing pattern, so try to breathe in short, rhythmic breaths in through the nose and out through the nose or mouth.
Don't let your body lean forward/back or side to side as you walk
In general, the heavier the load, walk shorter distances and for moderate loads walk longer distances. Experiment with these variables, but remember to bail out of a movement before fatigue compromises your form.
Try setting the clock for 10 minutes and see how many rounds you can complete within this time frame. Rest as much as you need to between rounds, but challenge yourself. Start with a 1 minute rest between rounds and scale it up or down from there. Some people will need more and some less.
So give the kettlebell hill rack carry  workout a try and watch your fitness skyrocket to new levels.
Please be aware that these weighted carry workout variations are very powerfully deceptive in their effectiveness to accelerate you to your worthy fitness goals. What I mean by that is that if you have never done a weighted carry workout or perhaps only observed someone doing them, they don't appear to be that challenging. This perception changes once you actually participate in one of these workouts. Every single person I have ever introduced to a weighted carry workout gains an incredible respect for how intensely challenging they are and sing the praises of their fitness results provided they use a weight scaled to their fitness level.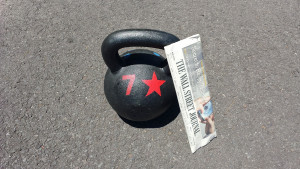 Try this simple, yet deceptively intense total body workout at your local hill with a challenging weight and I guarantee you will be questioning your current love affair with your treadmill, elliptical, stair stepper or other over engineered fitness device when your fitness and conditioning progress goes into overdrive! Enjoy and stay well, folks.
Stay Well! Take Action! Be Consistent! Train and Eat Smart! Get Rid of the Drains and Pains in Your Life! Value your loved ones and friends and get out and have some active, safe fun!
Mark Mellohusky (Mellow-Husky) Mellow as in laid back and Husky like the dog!
I Found My Thrill On Kettlebell Hill
Seven Stars Fitness