Don't let anybody tell you that your fitness has to be complicated and that you can't slip in a little fun and excitement while getting an incredibly productive workout at the same time. I laugh at some of the super stiffs in the fitness industry who run fitness programs like extremely rigid military drill instructors or the stereotypical loud, unfeeling and egotistical "evil" gym teachers most of us have had the displeasure of experiencing. While I take my training and exercise programming seriously, I don't take myself too seriously- preferring to keep things upbeat, light and remain personably approachable.
This doesn't mean that I entertain a lot of nonsense and bad behavior that seems to be entrenched in the fitness industry, however. Read about my synopsis of the fitness industry where I don't sugar coat my many experiences over the years unlike your typical hollywood-type fitness phonies tripping over themselves to over hype and out bullshit one another.
While I absolutely enjoy working out with friends and colleagues, my favorite training partner is Mother Nature in all her challenging, fun and refreshing varied terrains. I am especially fond of training on the beach as the smells, sounds, scenery and feel of the sand under my feet are so mentally and physically stimulating that intense workouts like these kettlebell sand drag sprints seem like a fun and challenging playful game.
How To Do The Kettlebell Sand Sprint Workout
Slip on a belt attached to a rope and kettlebell and sprint forward dragging the kettlebell for a fixed distance. Try starting out at 40 yards and bumping it a bit up or down from there depending on your fitness level.
Immediately turn around and walk backwards dragging the kettlebell returning to your starting point.
Completing your drags up and back will be considered a round.
Try a 1 minute rest between rounds, but rest a little more if you need to.
Set the clock for 10 minutes and see how many quality rounds you can perform.
There you go – I told you this was uncomplicated and easy to learn! But don't be lulled into thinking that "easy to learn exercises" don't pay big fitness dividends. This is one of the most devastatingly productive and challenging workouts if you are serious about forging that ideal body you desire with a minimal time investment.
Check Out The Video Demonstration:
The Benefits Of The Kettlebell Sand Drag Sprint Workout
By combining the forward sprinting motion while dragging the kettlebell immediately followed by the backward dragging of the kettlebell, you are performing a supremely balanced total body workout. Performing this workout without the extra friction and drag of the kettlebell is a great workout by itself, but when you add that dragging component of the kettlebell to the mix you will skyrocket your fitness results to new levels.
This workout will profoundly improve your body composition and get you tight and lean in all the right places. This simple workout is what I deem  a total body tightener as the forward sprinting will hit your main areas like your hamstrings, Glutes(Butt Muscles), hips, abdominals and calves. While the backward walks will hit main areas like your quads(front leg muscles) and shins. You will also work the many stabilizer muscles throughout your body as well as the core musculature. This is not an exhaustive list of the many muscles worked during this workout, but these areas are where you will mostly feel all that incredible transformative metabolic magic taking place!
Why design a workout whereby your body is called upon to recruit the most muscles? Because you position yourself for maximum fitness gains and caloric burn that will pay you huge fitness dividends for the short time invested. In other words, maximal muscle recruitment means a greater total body metabolic effect translating into way more calories burned during your workout as well as keeping your metabolism stoked as you enjoy enhanced caloric burn up to 48 hours after these types of workouts while at rest. That's a pretty good deal for your valuable time invested.
I teach, preach and practice total body workouts like this because they give you the biggest fitness returns for your precious time invested. I don't like to waste time spending unnecessarily long hours in the gym doing tedious, ineffective media endorsed exercises that folks assign value to where none exist.
Oh and ladies-please take special note- you may want to gravitate to these types of workouts that engage maximum muscle recruitment if you truly want that tight and shapely butt, sexy toned legs and flat stomach many of you tell me you desire but never seem to attain…..
Tips And Guidelines
Do a brief and meaningful total body warmup before diving in to more intense workouts and activities like this kettlebell sand drag sprint workout. 
You don't need to sprint at mach five, 100% all out intensity to experience the great benefits of this workout. Dial in to about a 70% effort on your sprints as this is a sweet spot to not over do the intensity while still being in a zone to get max benefit.
Rest as much as you need between rounds, but keep it challenging
Ladies try using a 12KG Kettlebell and men try starting out with a 16KG kettlebell. Depending on your fitness level, dial up or down a size as these are only recommended starting weights.
If you have issues with sprinting, just walk and drag the weight forward and backward instead. You will still get a fantastic workout and experience excellent metabolic benefits.
There are many advantages to training barefoot, so ditch the shoes and let those tootsies free in the sand if you can.
Keep the exercise area free of obstructions and always pay attention to your surroundings. Since I'm doing this workout in New Jersey, I made sure I policed the beach for medical waste, syringes and whatever the hell else may have crawled into my path! I am not joking – I can write entire posts on the bizarre, dangerous and wretched things I have seen on the beaches over the years.
As you get better you may want to experiment with some of the training variables to increase the challenge. For example, you could decrease your rest between rounds, increase your sprint distance or move up to a heavier kettlebell size to drag. However, only change one of these variables at a time to see how you respond so as to not over extend yourself.
Why Train In The Sand?
Sand is an environmental medium that will allow the kettlebell to drag smoother and in a more uniform manner while still maintaining a friction pull that ensures the workout challenges you. If you were to drag the kettlebell over a harder, less forgiving surface you tend to get more jerky, out of control drags that can throw your pace, rhythm and concentration out of whack.
Training in the sand is more forgiving on the joints as your ankles, knees and hips don't take the kind of pounding like you would experience on pavement, concrete, hard trails and even the track.
Training in a naturally unstable terrain like sand is what I call training in a "live environment."  The subtle shifting of the sand will constantly change, challenge and force the body to recruit many more stabilizer muscles in order to try to compensate. No two exercise repetitions, runs, drags, crawls, etc. are the same when training in a live environment like sand. This is why the metabolic effect is so great when training in sand as you gain fantastic fitness dividends in relation to your time investment.
If you can't get to a beach, try the shores of a lake, river or stream, a local volleyball court or anywhere you can find a plot of relatively loose dirt. Use a little imagination and be cognizant of your surroundings and you will find something.
And training in sand (especially at the beach) is super fun and beats the hell out of haunting your regional galactic techno gym.
So give the kettlebell sand drag sprint workout a shot if you really want to get lean, tight and strong while super charging your metabolism as the nasty fat flees from your body. I advocate meaningful movements in conjunction with total body workouts that are body changing and life changing that provide Maximum Exercise in Minimal Time that produce Stellar Results.
Stay Well! Take Action! Be Consistent! Train and Eat Smart! Get Rid of the Drains and Pains in Your Life! Value your loved ones and friends and get out and have some active, safe fun!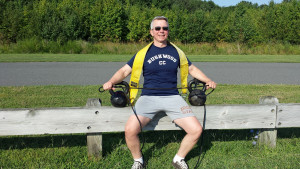 Your pal on beach patrol,
Mark Mellohusky(Mellow-Husky) Mellow as in laid back and husky like the dog
I Eat T-Bone Steaks And Sprint Through The Sand Dragging Weights!
Seven Stars Fitness