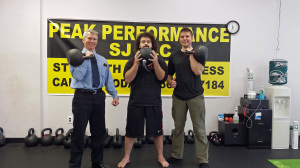 Great results will follow if you invite this Challenging kettlebell workout into your fitness universe as it will build strength, endurance, conditioning, improve posture and flat out chase the fat off your body in a hurry!
I am attracted to and practice exercises and movements that lend themselves to not only keeping me fit, but will help me age powerfully graceful for as long as I walk this planet. In conjunction with practicing sane eating strategies, I practice preach and teach meaningful, productive and sustainable fitness strategies that make you strong and lean while moving well and pain-free finally allowing you to conquer nasty fat. All without spending hours haunting gyms doing hours of sappy, mindless media endorsed exercises that rarely position you for fitness success and sustainable results.
Kettlebells are a fantastic tool to propel you to your fitness goals and achieve that ideal body you always desired. Decide for yourself and see how good kettlebells are for getting you a super body built for show and go.
On to the kettlebell workout…..
Kettlebell Calorie Crusher Workout
First off, Lose the Shoes for a more productive workout if conducive to your training environment
Here are the kettlebell exercises you will be doing:
1) The Kettlebell Dead Swing – The kettlebell comes to a dead stop on the ground after each rep. Not only does this exercise chew up calories, but will help you dial in your swing technique and reinforce good form.
2) Kettlebell Goblet Squat
3) Kettlebell Heartbeat Carry – Kettlebell placed in front of the chest, elbows in while keeping a tall spine as you walk.
Perform the above Kettlebell exercises in succession (one right after the other) which constitutes a round.
Like most of the workouts I demonstrate, I performed one round just so you can pattern these exercises and see how they flow since I don't want to bore you to death watching me do round after round.
Tips and Guidelines:
Set the clock at 10 minutes and see how many quality rounds you can perform. When you need more of a challenge either bump up the time to 15 minutes, go up in kettlebell weight or reduce your rest between rounds.Try changing these variables one at a time when you are ready so you don't over do it.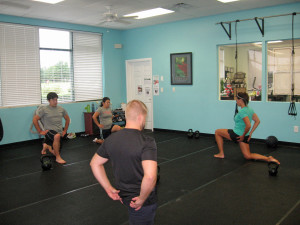 Take the time to do a meaningful and proper warmup before jumping into this challenging workout. You don't have to do a marathon of mobility work, but listen to your body and do less if you are feeling limber and do a little more if you are stiff and tight striving to get good range of motion and release muscle tension.
Stay aware of your surroundings at all times – don't trip over your equipment or step in any divots or gopher holes if you do this outdoors so walk the area beforehand to check for potential hazards!
Ladies try starting with a 12kg (kilogram) kettlebell and guys try a 16kg (kilogram) kettlebell. Scale up or down from these sizes depending on how you are challenged.
Use good form when performing these exercises and especially don't get lazy when you are hoisting the kettlebells up and returning them to mother earth between exercises and rounds.
Rest as much as you need between rounds, but make sure you challenge yourself and don't dilly dally.
If fatigue starts to make your movement quality suffer, then take longer breaks between rounds to ensure sustainability and success – Do not compromise your form, know your limits and use common sense!
You can play with the reps and distance walked once you get better and have some fun and take pride in watching your body composition improve!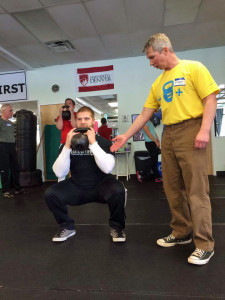 Give the Kettlebell Calorie Crusher Workout a shot with a challenging weight and I guarantee you will be questioning your current love affair with your treadmill, elliptical, stair stepper or other over engineered fitness device when your fitness and conditioning progress finally goes into overdrive!
So if you want a tight, shapely butt, killer legs, a flat tummy and some awesome strength & conditioning – make this kettlebell workout a priority and keep it in your training rotation!
Stay Well! Take Action! Be Consistent! Train and Eat Smart! Get Rid of the Drains and Pains in Your Life! Value your loved ones and friends and get out and have some active, safe fun!
Don't rush to failure with your health and fitness, but plan for lifelong success!
Your Pal in Fitness,

Mark Mellohusky (Mellow-Husky)
I Eat T-Bone Steaks And Crush Calories With Kettlebell Weights!
Seven Stars Fitness