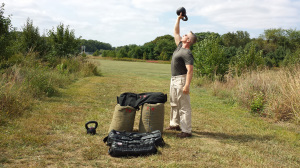 Learn what to do if you are having problems with dry, cracked hands and knuckles that prevent you from training , getting that scheduled workout in or just performing your daily activities.
Although I don't mind it when the colder weather rolls into my neck of the woods here in the northeast, my hands definitely do take offense to the changing of the seasons as the moisture literally gets sucked out of them leaving them brittle and painful.
If you are like me, once that cold, dry air rolls in and you are now spending more and more time indoors exposed to artificial heating sources that sap the air of moisture, your hands usually take the brunt of this exposure by becoming dry, cracked and even form deep cracks around your fingers if you don't treat them properly.
Not only do your hands become irritated at the slightest movements, they can become downright painful as your skin cracks making routine activities stressful and unproductive. Dry and cracked hands are also unsightly and pretty socially unappealing unless you play a zombie in the Walking Dead TV show or are looking to scare away your next date.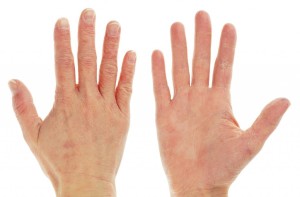 If you are fortunate enough to have control over the humidity of your environment such as employing some type of humidifying device where you spend most of your time, then that goes a long way in keeping your hands and skin in general from drying out.
Unfortunately, most of us are in and out of environments where we have no control over the humidity so we have to be highly proactive with our hand care or suffer the consequences.
I am always amazed at how quickly the moisture gets sucked out of our skin as soon as we spend more time indoors while old man winter is prowling outdoors blowing cold, dry air on us for a potent one-two moisture sapping punch!
Corn Huskers Lotion To The Rescue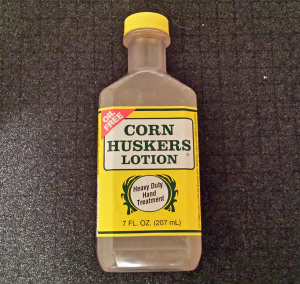 Years ago I used to train in Aikido and the winter time was especially brutal on your hands.  I was training in a semi-heated, devoid of moisture dojo on rough canvas mats using your hands to constantly pick yourself off the floor subjecting your hands to all kinds of friction which seemed to further leech the moisture out of you.
This was the same martial art that Steven Seagal popularized with great success in his long list of film credits. He made it look way cooler and exciting on the big screen and our instructors would constantly snap that we are training in a dojo and not on some catered and pampered Hollywood set so as to keep us rooted in foundational technique.
Hey, I always loved those Steven Seagal movies especially those early films of his, but our instructors felt he was "sensationalizing" the martial art of Aikido.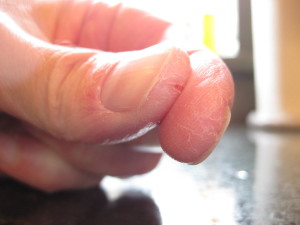 One day my instructor noticed I was a little off with my technique and could tell I was favoring my hands. Reminiscent of the classic Quint and Hooper scene from the movie Jaws, he  pulled me aside and demanded to see my hands.
I held them out, he grabbed them, turned them over and looked at them briefly and saw how cracked and dry they were. He barked at me to get off the mat and to wait at the edge of the dojo. He went in the back and came back with a bottle of Corn Huskers Lotion and instructed me to use this throughout the day to get my hands healed up.
He said all serious martial arts practitioners know about taking care of their hands and the benefits of Corn Huskers Lotion and walked off leaving me to rub some on my hands and ponder his gruff advice.  This stuff worked like magic and after only a few applications my hands were back to normal and I was back to doing my best Steven Seagal impressions on the mat in no time! I have been a fan and avid user ever since.
Even though I learned about using this lotion through my martial arts training, I have come to value its use in my fitness training and just keeping my hands looking and feeling good in general everyday life.
It is especially useful for when I am kettlebell training since if you have issues with your hands, you won't accomplish much with the kettlebells or any other training implement you need to grip or use your hands for that matter..
Benefits Of Corn Huskers Lotion
1. It absorbs into the skin quickly
2. It's neutral on the nose. There is no harsh, flowery or repellent smell.
3. It doesn't make your hands greasy, slick or oily
4. Softens and works wonders on rough, dry, uncomfortable skin
You can try picking up a bottle of Corn Huskers Lotion at your local drugstore or chain pharmacy store like Walgreens or CVS. I had to go to Wal Mart to purchase mine. You can always search and order online if you have a tough time finding it locally.
I buy multiple bottles. I keep one at home, one in my gym bag, one in my office and one in my car so it is always handy and I don't have to schlep around a single bottle like it's the holy grail or something. I used to carry a single bottle around, but so many people wanted to try some when they see it, I just keep a lot around now and share the goodness!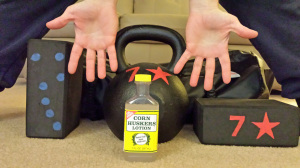 It doesn't matter if I am training with sandbags, kettlebells, odd objects like logs or doing body weight and mobility exercises – I still need the use of a good pair of working hands free of any ailments to position myself for success and stay motivated in my workouts.
Staying fit and healthy takes enough discipline and allocation of mental resources without having to worry about dry, cracked, irritated and movement impaired hands. We can all think of a ton of excuses not to excercise – don't let your hands be your weak link and excuse to knock your progress off track.
So take care of those hands!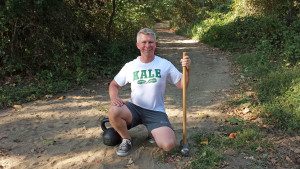 Stay Well! Take Action! Be Consistent! Train and Eat Smart! Get Rid of the Drains and Pains in Your Life! Value your loved ones and friends and get out and have some active, safe fun!
Mark Mellohusky
I Eat T-Bone Steaks, Train With My Body Weight and Take Care Of My Hands!
Seven Stars Fitness