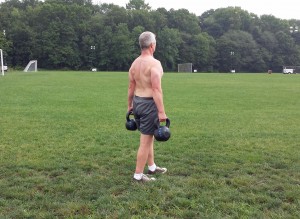 I am all about performing exercises that are easy to learn, challenging, provide huge fitness returns on your time investment and dare I say are fun to do. The kettlebell farmers walk fits this description to a tee.
Even with a seemingly simplistic exercise movement like the farmer's walk, make sure you know why you are doing it and how to incorporate it into your fitness program for maximum fitness benefit.
This awesome movement will build Strength, Endurance, Conditioning, Improve Posture and Shred Fat off your frame post haste when you lock in how to perform this essential kettlebell exercise. Pretty good results from just walking around with two hunks of iron at your sides!
This simple to learn, yet challenging exercise will pay big fitness dividends to those willing to include this fantastic total body movement into their workout routines whether they be a beginner, intermediate or advanced trainee.
You can do the kettlebell farmers walk indoors if your training facility or home setup has the space to perform this awesome exercise or outdoors like I prefer – weather permitting of course. Even though I have access to wonderful training facilities, I try to get outside and train as often as I can as I believe having that connection to the outdoors is healthier mentally and physically.
Check out the video to learn how to do the kettlebell farmers walk. It's easy to learn – I promise!
Learn how incredibly effective training with kettlebells are for getting you supremely fit, knocking nasty fat off your body and finally achieving your worthy fitness goals and ideal body composition here:
READ: HOW GOOD ARE KETTLEBELLS FOR FITNESS?
TIPS and GUIDELINES:
Make sure to Properly Warm Up before ramping up to more intense exercise
Use enough weight to challenge yourself. If you are not somewhat winded after performing a round of these walks, then you will need to increase the load you are carrying or increase the distance you walk. Doing these weighted carries with super light weight in each hand won't cut it, so experiment to find what load challenges you.
Pick up & lower the weights using good form
Walk with a tall spine (straight,upright posture)
Don't crane your neck forward while performing the farmer's walk
Keep your shoulders back and NOT rounded forward
Take small, quick steps
Take short, rhythmic breaths in through the nose out through the mouth
Brace your abs while performing this exercise(pretend someone is about to punch you in the gut- that's what I mean by bracing.)
Start out with a moderate weight and do rounds of 50 steps(challenge yourself, but increase the distance if using lighter weight and decrease the distance if using a heavier weight. Mix it up, but don't use bad form!
Try setting the clock for 10 minutes and see how many quality farmers walks you can get in using good form. Rest as much as you need between rounds, but do challenge yourself. If your form starts to falter, take a tad more rest between rounds. As you progress and get better, bump up the time to 15 minutes or increase the load to keep challenging yourself.
You can use dumbbells if you don't have kettlebells, but I think the kettlebells lend themselves to a more productive training session.
Enjoy this great exercise & work it into your routine often-your body will thank you by promoting lean muscle and shedding nasty fat!
The kettlebell farmers walk is just one of the essential basic weighted carries I use in my fitness programming that allows me to stay strong and lean, move well and pain-free, keep the nasty fat off and live a high quality healthy life of active vitality.
Give it a try. After all, what have you got to lose except some unwanted fat , bad movement qualities and atrocious posture  patterns that have seized up your body for longer than you probably care to remember!
It's never too late to improve your quality of life.
Stay Well! Train Smart! Get after the body you desire! And hang around fun people who aren't a drain on your quality of life!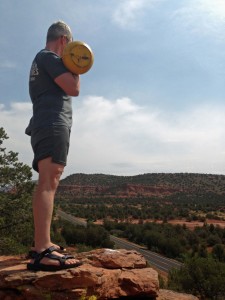 Mark Mellohusky
I Eat T-Bone Steaks and Lift Kettlebell Weights. And carry them around too!
Seven Stars Fitness