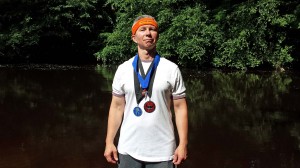 Here's mud in your eye – and just about every other orifice in your body!
That about sums up what you can expect when you participate in one of the many mud run events popping up all over the country. These events appeal to both the fun loving weekend warrior types who want to have a good time running around and bonding with friends and the overly serious physical enthusiasts who bull rush their way through these courses as if they were qualifying for the Olympics and a trip to the moon.
If you finish any of these races you usually get some kind of medal, medallion or head band to wear as your prize or memento of the day. Where you would wear these things in public, I have no idea, but I felt ridiculous posing with these trinkets for this post, but it gives you an idea of what they give you at these mud runs besides a banana, a blast with a fire hose and a free beer when you cross the finish line.
My more active friends had tried some of these mud runs and thought I would get a kick out of it. While I thought it sounded like fun to participate and hang out with my friends, I had another big reason to check these mud runs out.
While I was curious as to what these mud runs were like, I also wanted to see how well my fitness training methods carried over to physically preparing me to complete these challenging obstacle courses that I had heard so much about. I was told these mud runs will challenge your body on all levels – Strength, Endurance, Stability and Mobility, Balance, Cardiovascular and good old fashioned mental judgement.
I didn't modify my normal workout routine to prepare for these mud races or do any steady state monotonous long distance running even though I knew there would be good stretches of straight runs throughout these courses. I just wanted to see how I would physically hold up and perform in these various mud runs using the fitness methods I teach, preach and practice.
My training was exactly what I write about on this site incorporating the essential exercise movements the body needs to maintain optimum fitness.
I used sane, safe, sound and sustainable fitness programming which included kettlebell workouts, sandbag training, body weight exercises and mobility exercises backed by a lot of active recovery movements like doing some brisk trail walking.
I wanted to participate in the main nationally recognized mud run races that were held in the northeast that had the most challenging reputations and seemed to have their acts together as it pertained to event management, customer service logistics and word of mouth buzz.
I settled on participating in the Tough Mudder, Rock Solid Mud Run, Warrior Dash and Spartan Race. These definitely were a good sampling of races that would be able to test my abilities I thought. I am sure there are other worthy regional races out there, but I didn't want to travel outside the northeast and follow the race circuit like some mud groupie.
My thoughts and experiences on each mud run event I participated in:
Rock Solid Mud Run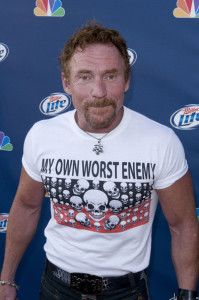 This was my introduction to mud runs. It was held in summer at Englishtown Raceway in New Jersey.  The Rock Solid Mud Run stated in their advertising that it was "for anyone looking for a unique new physical and mental challenge." The course was approximately 5 miles, but my group took a wrong turn during the race so it was more like 6 miles for us, but no big deal. Just a little extra running.
The kickoff to the race was announced and hosted by Danny Bonaduce of sitcom and reality tv fame and known for beating up Greg Brady in a celebrity boxing match. I chatted with him in the parking lot on the way to register for the event and he was a very down to earth and funny guy. Too bad he didn't hang around for the race afterparty as he would have been the life of the party.
This was a fun and challenging course that was well run and organized. You had your standard sloshing through mud along with net climbs, wall climbs,  low crawls and water obstacles with jumping into and swimming across a lake. The organizers state that their obstacles were designed in conjunction with the U.S. military along with their own designs. Specifically, the course was designed by a Marine Corps Officer with over 22 years of military service and 4 combat tours to Iraq and Afghanistan.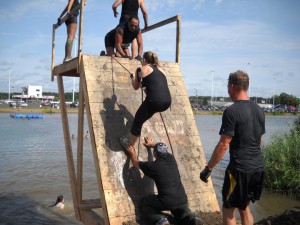 There were a very fun group of participants and most people were very helpful to those who had trouble with some of the obstacles which was nice to see comradery among strangers and a great spirit of cooperation.
This was a challenging course and I had no problems with the obstacles, but I felt good after its completion .
I give this event high marks as the entire experience was enjoyable and it seemed to attract a more sane crowd of participants not intent at throwing themselves haphazardly into obstacles and rushing to failure and injury.
The only thing I didn't like was that there was too much monotonous running on the open race track areas that got boring real quick. Would have liked to see better obstacle placement to break up the boring chunks of runs.
The Tough Mudder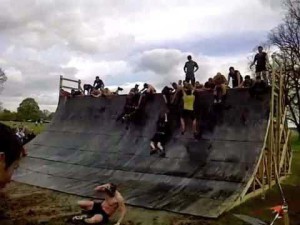 This mud run event was also held at Englishtown Raceway in New Jersey, but this was a very different race as I felt miserable from start to finish. The course was 12 miles with 32 obstacles interspersed throughout. Two things made this event especially tough and miserable. The first is that it was held in mid November and it was cold which sapped you metabolically right out of the gate. The second was that within the first 5 minutes of the race, the first obstacle was jumping into a large industrial garbage dumpster filled with colored ice water.
This wouldn't have been so bad if it was the summer, but this was mid November and was just an unnecessary  "shock value" stunt as far as I was concerned. The obstacles included various wall climbs, net navigation climbs and crawls, water jumps and crossings, mud crawling and muck wading, balance challenges and some hairy pipe navigating not for the claustrophobic.
For the most part, this mud run attracted a spirited and fun loving group of participants. There were some overly gung ho types who would bull their way through the course and piss some people off, but this is to be expected to some degree with any of these mud runs.
This mud run was indeed tough as the name of the event implies so I give the organizers high marks for truth in advertising. The cold weather, ice water baths and water crossings were the real culprits in beating the hell out of you and physically and mentally wearing you down.
Don't get me wrong, the course and obstacles were challenging, but if I did this in summer it would have been considerably easier. I completed the course, but it took me some time to recover.
This was one of those mud runs where you were going to feel beat up no matter what kind of training you had under your belt unless you were an active navy seal or army ranger .A good percentage of the participants didn't finish.
Tough Mudder organizers did a good job with course management, registration flow and overall logistics of the event.
Once again I didn't like the monotonous open space running that gets boring. Would like to have seen obstacles interspersed throughout the course to break up the longer chunks of dull running.
Will never do one of these runs in a cold month by choice again unless I am in pure fight or flight survival mode being chased by a pack of wolves or a Sasquatch during a winter hike in the woods.
Warrior Dash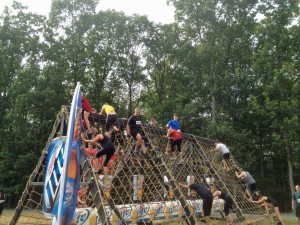 This mud run was held in the summer at Morristown, NJ in northern New Jersey with some friends I haven't seen in years since attending college out at Arizona State. I participated in this event as more of a social gathering than a physical challenge since the Warrior Dash is known for its short course and rock concert type atmosphere.
The course obstacles consisted of various mud crawls, cargo net climbs, wall climbs, running through fire and of course pure running.
It was a short course only a tad over 3 miles, but it was fun and not too difficult to complete if you possess average conditioning, strength and mobility. The Warrior Dash attracted a lot of people due to its ease of completion and fostered an environment that got people excited like they were teenagers seeing their favorite rock band for the first time. People had a good time wearing the event's trademark viking helmets while chomping on huge turkey legs and having a blast like they were whooping it up at a keg party from high school.
This event attracted a lot of overzealous participants who took this little race way too seriously. It seemed a good amount of people wanted to insanely zoom through this course to score the fastest completion time that would be displayed on a big digital scoreboard in the afterparty area. My only problem with this was that I saw these people literally pushing people out of the way in narrow rocky trail areas haphazardly charging their way through at the expense of other people's enjoyment and safety. I saw a few young girls take a spill as they were bumped by these dopes as they rushed to the leader board to see their name in lights cheering like clueless buffoons because they beat their buddy's time by a few seconds.
While I enjoyed seeing my friends, I don't have too many good things to say about this mud run. The course was fun and I liked that they did more trail running than boring open space running, but I didn't like the ridiculous antics of some of the participants this race attracted.
For a measly 3.2 mile mud run, you got gouged on parking and you had to wait way over an hour in the parking lot to get shuttled to the race area. Registration was a long nightmare and I couldn't wait to get the hell out of there which was a pain in the ass leaving also. In all fairness, maybe this was just what goes on in north Jersey, but I won't be going back to this particular event.
Spartan Race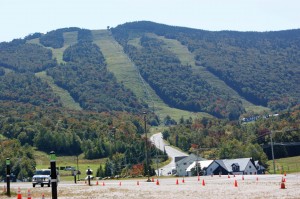 This was the Big Kahuna of Mud runs I participated in. Its official name was the Tri-State Super Spartan held in September at Mountain Creek Water Park in Vernon, NJ. The course was a true total body blitzer –  11 miles spanning three mountains with elevations of 3000 feet. The event attracted roughly 10,000 people representing all ages and athletic abilities.
This was a brutally challenging course. You were literally running up and down a ski mountain interspersed with trail runs with the added fun of obstacles greeting you after each grueling ascent and decline. This was loose terrain so it was pretty treacherous and even more energy sapping because of all the rocks and gravel that would constantly shift under you forcing you to stabilize and call upon muscles you didn't know you had.
I saw a few people take some bad tumbles going down the mountain too fast and careless. I stopped to help one guy who just kept tumbling until he bashed into a tree. That sounds bad, but If it wasn't for the tree he would have kept going ending up at the bottom looking like a tenderized piece of meat from all the rock impacts he would have continued to absorb. He seemed more embarrassed than hurt, but I knew he would be nursing some serious pain and abrasions after his adrenalin rush wore off.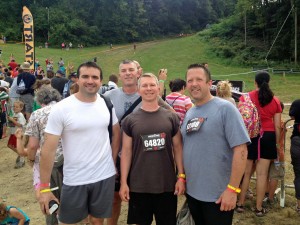 Obstacles were challenging and covered fire, water, barbed wire and of course mud served up to you in a creative variety of ways. There were tough sandbag carries up and down the mountain, rope crossings over water, rope climbs, over/under wall and crawl obstacles and a spear throw to name a few.
There was a 24 foot water jump over in the water park section that was a pretty good rush, but there was a big bottleneck there and I had to wait in line for over 30 minutes. That's ok, because the organizers wanted to make sure the jumps were safe and pace people orderly and safely between leaps into the water. I'm glad I waited as the jump was fun, but then you had to trudge up that damn mountain again….
I would have to say the terrain itself was the most challenging obstacle that really tested you physically and mentally in the Tri-State Super Spartan race. Going up those steep ski slopes were evil, but navigating downhill over that loose rock was truly one of the most physically demanding tasks performed in any of these mud runs.
The race got even tougher when halfway through, the skies opened up and just drenched the course especially making those steep climbs and descents tougher and more treacherous. We had to be pulled from the course a few times due to lightning and reports of a small tornado forming. On top of that there were reports of black bears moseying around the course. I didn't see any bears, but the weather conditions were what truly impacted the race.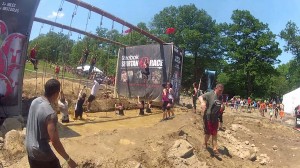 It took me a while to recover after completing this race as my central nervous system was fried and it took days to re-charge. We had a good time and the race attracted a good cross section of participants who seemed to embody helpful comradery and a fine spirit of cooperation and sportsmanship. Many participants did not finish this race which is a testament to how challenging it was.
The organizers did a good job with course management and customer logistics even with all the adverse weather conditions bear alerts and huge crowds.
Summing Up The Mud Runs
To be fair, there were elements I enjoyed with all the mud runs I participated in. These are just my experiences in the northeast and I'm sure variables are different in each section of the country influencing a participant's individual experiences.
Rock Solid Mud Run
Had a great time and was a good overall experience. Physically challenging, but not brutal. Good choice for people looking to try out a mud run who are in relatively decent shape. I liked the participants this mud run attracted – most people were respectful and helpful to those who struggled with some of the obstacles.
Tough Mudder
If I had did this mud run in summer instead of mid November, I think I would have had a better experience. This mud run lived up to its name – it was indeed tough and extremely physically challenging. It was well organized and attracted a great bunch of participants for the most part. Make sure you have some conditioning and strength under your belt before tackling this one folks – especially in a cold month!
Warrior Dash
I liked the course and the fact I got a chance to see some college friends – other than that I don't have anything else positive to say about this mud run on the day I participated. In order to give the organizers the benefit of the doubt , I suspect (hope) they do a better job with this mud run in other parts of the country. Good choice for beginners and weekend warriors in halfway decent shape.
Spartan Race
This mud run was the most challenging and brutal on so many levels, but the Tough Mudder wasn't that far behind as a close second. The landscape was unique and the participants seemed like a good crowd and most people I met were down to earth and had respectful awareness of those around them. Organizers did a good job with this event even under adverse weather conditions. Make sure you are physically prepared for the Spartan Race and do a few shorter mud runs to get yourself acclimated to the grueling challenge of this race or this event will bite you in the ass and send you tumbling home a battered mess.
What I learned: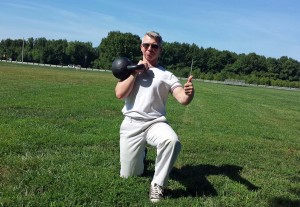 I never practiced or attempted most any of these obstacles in these mud runs, but I had no problem with them. Don't get me wrong – a few of these mud runs beat the hell out of me and were physically and mentally punishing, but I got through them with a little confident bravado to spare.
My physical training methods prepared me well for these mud runs and enabled me to successfully complete each event in a strong, confident manner. I don't do any steady state running in my training. So what surprised me the most was how my training allowed me to handle all the running involved in these races, since all my cardio is derived from my kettlebell workouts, sandbag training, bodyweight exercises and mobility drills.
I am always putting my training methods to the test to see how they transfer over to different activities. I was very pleased to see my methods validated, but that doesn't mean I will be resting on my laurels!
You will get scraped up and most likely shed some blood in these mud runs. I didn't like the idea of crawling and rolling through mud, spooge, stagnant water and barbed wire especially after hundreds of people contributed their body fluids to the quagmire by the time you romp through. But that's why they make you sign death waivers for all these mud runs I guess!
It's a good thing I have developed the immune system of a hyena due to my playing rough as a kid, tromping through swamps, being bitten by every critter I used to catch and actively participating in the hi jinx of all the other neighborhood dirt devils!  Thank you mom and dad for letting me be a kid which allowed my immune system to thrive!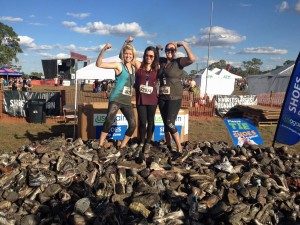 Be prepared to abandon your clothes and footwear after any of these mud runs. I don't care how many times you wash these articles of clothing, they will never be the same. Just throw your shoes on the ceremonial pile of sour footwear that seems to appear at the end of every race and burn your clothes.
Keep your cool and don't let any inconsiderate participants ruin your experience. Most people were super cool and went out of their way to help others and were fun to be around contributing to a wonderful spirit of competition. If you see someone that needs help with an obstacle or takes a spill, do the humane thing and help out even if it shaves a few minutes off your precious course completion time.
Make sure you do a proper warmup before you jump out of the starting gate for these mud runs! Especially pay attention to your ankles. I saw a good amount of ankle injuries so please keep that in mind.
Trail running was easier on the mind. open space flat surface running was tedious and boring.
Some obstacles were unsafe due to the sloppy conditions and slippery surfaces which contributed to a lot of bruises and injuries so try not to rush to failure when you approach obstacles. Take a few seconds to study the obstacles and mimic how the experienced people are approaching and successfully navigating them.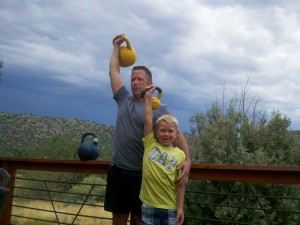 A special thanks to good friend Marc Bailey who got me involved in these mud runs and for anchoring our group for most of these races and keeping us focused on always moving our teams safely forward. Marc went through the Steve Maxwell kettlebell training system with me and our training philosophies are very similar so it was no surprise he had no major difficulty finishing these events either.
A big thank you to all our wives, girlfriends and kids who supported us and were there to take pics and videos since our muddy, shaking fingers would have fouled and destroyed any  electronic devices we touched!
Stay Well! Take Action! Be Consistent! Train and Eat Smart! Value your loved ones and friends and get out and have some active, safe fun!
Mark Mellohusky
I Eat T-Bone Steaks, Lift Kettlebell Weights And Chew Mud Occasionally!
Seven Stars Fitness